ECAC Championships in Atlantic City - March 16-18, 2012
These pictures and movies were taken with my Fujifilm Finepix S9000 digital camera and my iPad 2 on a trip to Atlantic City, New Jersey, for the 2012 ECAC Hockey Men's Championships from March 16 through 18, 2012. Images are shown at a resolution of 640x480, but many are available cropped from the originals or in half of original size by clicking on the links after the captions.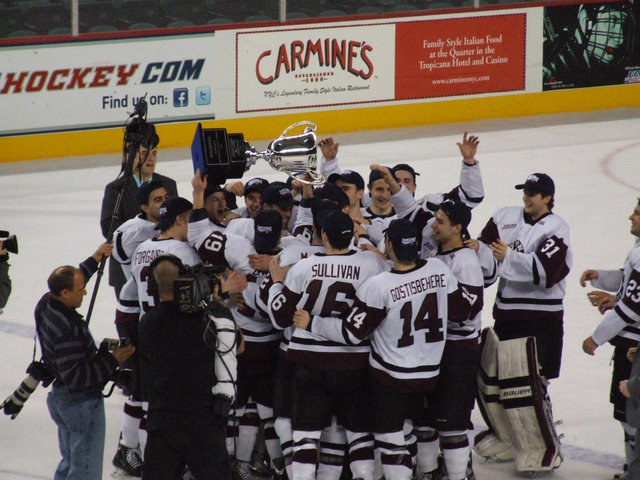 Friday, March 16, 2012
Our group left Albany on Friday morning, aiming to get to Atlantic City in time for both semifinal games. No problems on the ride down [10 Road Pictures]. When we got into the city and parked, first order of business was lunch from White House Submarines [Picture]. Then it was over to the arena to get ready for hockey [7 Pictures]. Pictures inside are all from the first semifinal: Union's 6-2 win over Colgate [12 Pictures]. And finally, my videos of the end of the game and stick salute:



Saturday, March 17, 2012
Championship day, but the games weren't until late. So of course, we took a ride to Philadelphia for lunch at Geno's [37 Mainly Road Pictures]. Despite a warm and sunny day in Philadelphia, it was cold, windy, and damp in AC for our walk along the boardwalk before the consolation game [14 Pictures]. No pictures from the consolation game, where Cornell's win was enough to get them into the NCAA tournament field. The rest of the pictures are from Union's 3-1 win over Harvard to clinch their first-ever ECAC Championship [32 Pictures]. And the end of the game on video:
Sunday, March 18, 2012
Just the ride home [3 Road Pictures].

E-mail domain: teresco.org, username: terescoj+pics Wed May 16 23:33:46 EDT 2012
---
Copyright notice: All images are copyright © James D. Teresco unless otherwise specified. Unauthorized use is prohibited.
---