Florida - December 25, 2005-January 2, 2006
These pictures were taken during a trip to Florida in late 2005 and the first couple days of 2006. They were taken with my Olympus C730 Ultra Zoom digital camera. Most images are shown at a resolution of 640x480, but are available in full 2048x1536 size by clicking on the links after the captions. From the drives, most of the pictures are just roads and signs.
Sunday, December 25, 2005
We left Amsterdam and headed south at 6:10 PM, but it was too dark for any pictures. Things were rainy and foggy and busy in New Jersey, but by midnight, we were near Washington, DC, and things were clearing up and the traffic had thinned.
Monday, December 26, 2005
With clear weather, it was a straight shot down I-95 through the night. [Picture] We made it to Florida by late morning, and after an experimental route from I-95 to I-75, we got into Naples before 7 PM. [25 Pictures from the road] 1494 miles in just under 25 hours.
Tuesday, December 27, 2005
Pictures from the day include hurricane damage [2 Pictures], the beach [5 Pictures], a fake gator [3 Pictures], a gift exchange [7 Pictures], Cathy's lot [11 Pictures], and the Florida College Hockey Classic Tournament: Northeastern vs. Cornell [6 Pictures], our group [8 Pictures], and Minnesota-Duluth vs. Maine [10 Pictures].
Wednesday, December 28, 2005
Pictures from the day are another gift exchange [5 Pictures] and the championship of the Florida College Hockey Classic Tournament: Minnesota-Duluth vs. Cornell [47 Pictures].
Thursday, December 29, 2005
This day's pictures are miscellaneous [2 Pictures] and a McFlurry machine [6 Pictures]. The day's main event and all of the day's pictures are from a boat ride in Estero Bay. We rented from Bonita Boat Rentals. Here's where we went (thanks to Google Maps and xfig):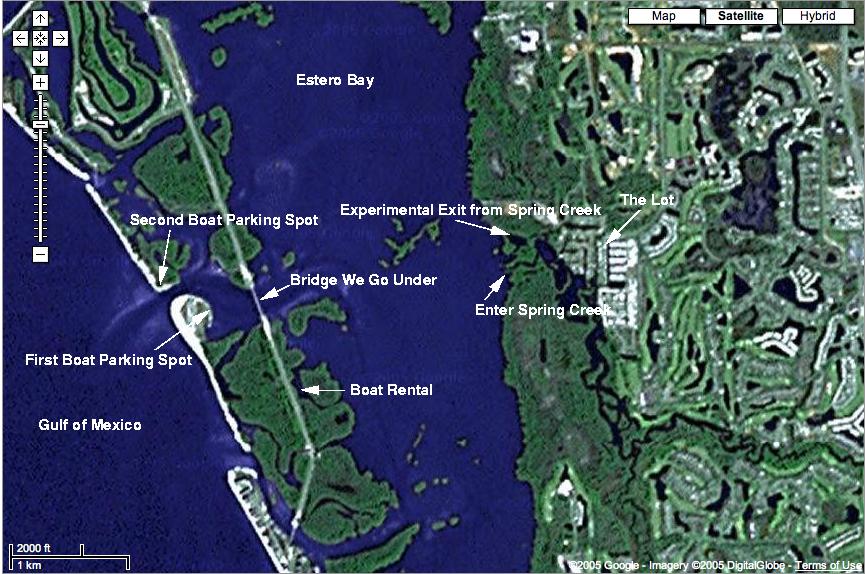 The pictures are broken down into several pages: boat rental [3 Pictures], the ride out into the bay [11 Pictures], two dolphin sightings [8 Pictures], on the way into Spring Creek [12 Pictures], in the canal behind Cathy's lot [6 Pictures], on the way back out of Spring Creek [11 Pictures], back out in the bay [6 Pictures], the first boat parking spot (bay side) [23 Pictures], back on the boat briefly [6 Pictures], the second boat parking spot (gulf inlet) [31 Pictures], and returning the boat [Picture].
Saturday, December 31, 2005
The only pictures from the day are from the beach near the Naples pier [8 Pictures].
Sunday, January 1, 2006
We left Naples just after 9 and started north. Just one picture: we passed some parade floats on I-75 and US 301 [Picture]. The rest of the ride was quick and uneventful. By midnight, we were into southern Virginia.
Monday, January 2, 2006
Things continued to go smoothly through the night, and we got into Williamstown after 9:30 AM. The ride back covered 1498 miles in 24 hours, 42 minutes.
---
E-mail domain: teresco.org, username: terescoj - Wed Jan 4 20:45:09 EST 2006
---
Copyright notice: All images are copyright © James D. Teresco unless otherwise specified. Unauthorized use is prohibited.
---