Frozen Four in Tampa - April 5-7, 2012
These pictures and movies were taken with my Fujifilm Finepix S9000 digital camera and my iPad 2 on a trip to Tampa, Florida, for the 2012 NCAA Men's Frozen Four, the Men's Ice Hockey National Championships, from April 5-7, 2012. Images are shown at a resolution of 640x480, but many are available cropped from the originals or in half of original size by clicking on the links after the captions.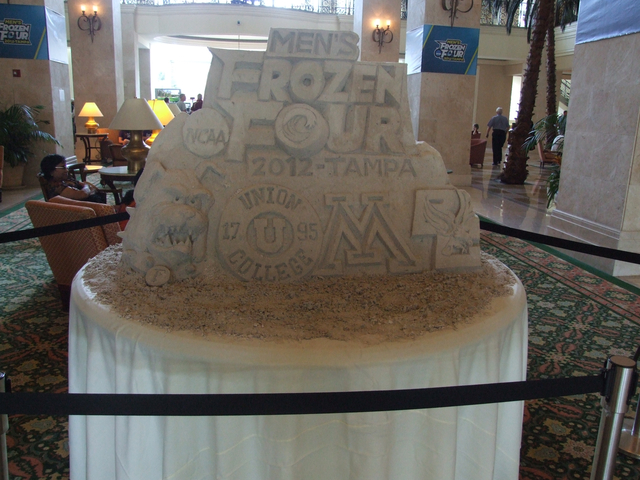 The Plan
This trip to the Frozen Four was planned well before the Union Dutchmen, the team I have followed closely for 24 years, had their best season and earned a trip to Tampa. All of us would drive down, Darren (friend and fellow season ticket holder) and I would stay in the Tampa area for the games while Cathy and Katie would continue to Naples. Then Darren and I would drive down to spend Easter in Naples and across to Fort Lauderdale to fly home. Meanwhile, Cathy and Katie would stay the week and drive home the following weekend.
Tuesday, April 3, 2012
Our trip started around 9 PM, heading south from Albany. We were in northern NJ or eastern PA when the clock struck midnight.
Wednesday, April 4, 2012
Into North Carolina by sunrise, and into Jacksonville for the night by late afternoon. No pictures, as this ride is very familiar.
Thursday, April 5, 2012
We drove from Jacksonville to Tampa [6 Road Pictures] and picked up a rental car so Cathy and Katie could continue right on to Naples. Darren and I headed into Tampa for the semifinals. Pictures are from the Frozen Fest outside [17 Pictures] and from the first (Union's) semifinal [22 Pictures].
Friday, April 6, 2012
For the off day, we had two things planned: a ride to Clearwater to see Winter, the dolphin with the prosthetic tail, and the opening day baseball game between the Yankees and Rays in St. Pete. The Clearwater trip was a nice ride [11 Pictures], but Easter weekend is not a time to walk in an expect to go to the aquarium there. The baseball game was good, other than the end result [22 Pictures].
Saturday, April 7, 2012
Championship day offered a chance to look around the area a bit more first, as the game wasn't until evening. We decided to take a ride down the east side of the bay and back up. Pictures are from the ride south [3 Pictures], from the Emerson Point Preserve [22 Pictures], the ride back [7 Pictures], and back in Tampa before the game [3 Pictures]. No pictures from inside, where Boston College beat Ferris State to win the national championship, or the familiar ride down to Naples in the dark after the game.

E-mail domain: teresco.org, username: terescoj+pics Sun May 20 14:06:42 EDT 2012
---
Copyright notice: All images are copyright © James D. Teresco unless otherwise specified. Unauthorized use is prohibited.
---