Pu'uhonua o Honaunau National Historical Park, Hawaii - August 30, 2006
The "City of Refuge", now a National Historical Park on Hawaii's southwestern coast.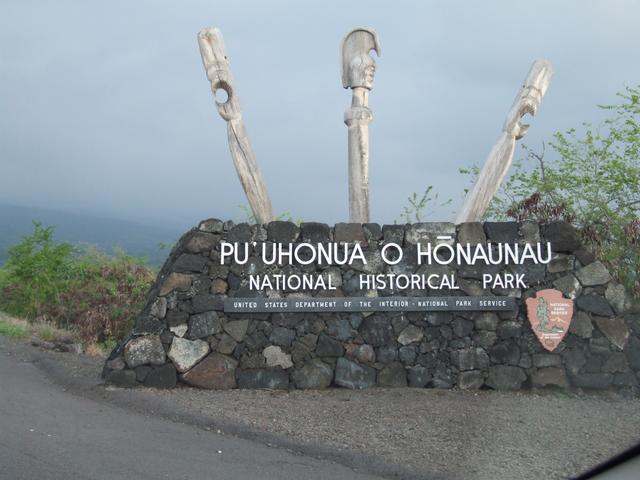 [1744x1308]
---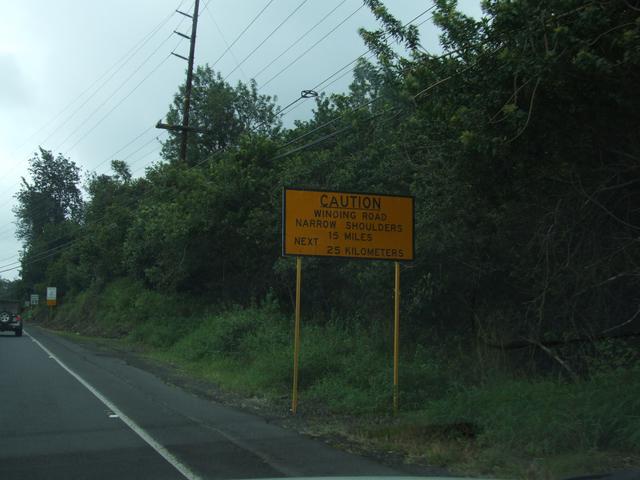 Not quite at the park, but back up on Route 11. [Closer]
---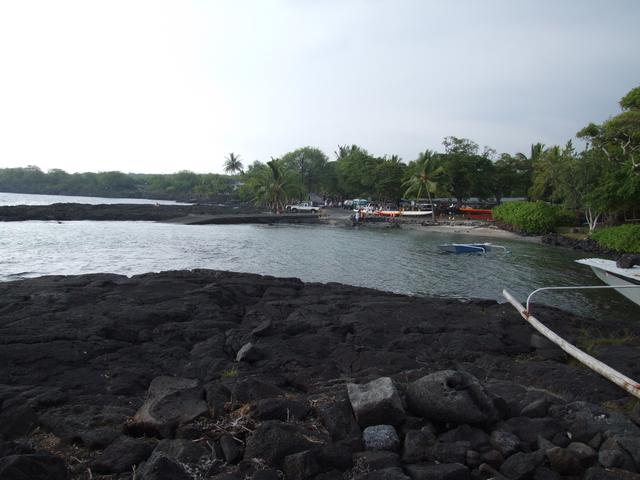 People launching a boat next to the park. [Closer]
---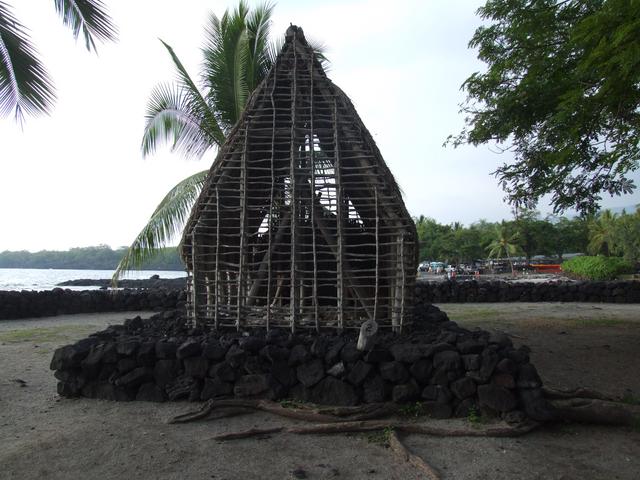 #2 on the park walking tour, from the park brouchure: "Temple Model: The framework for this half-size reconstruction of the Hale o Keawe temple is 'o'hia wood tied with coconut-fiber. Ti leaves were tied on as thatching." [1744x1308]
---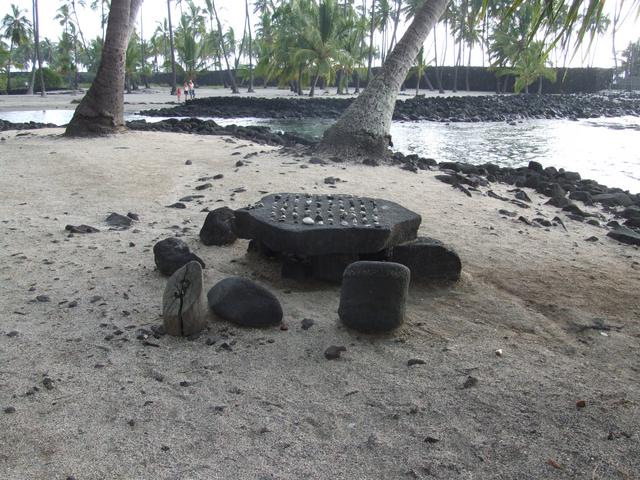 #3: "Konane: Pebbles for this traditional Hawaiian game are arranged on a replica papamu, or stone playing surface." [Closer]
---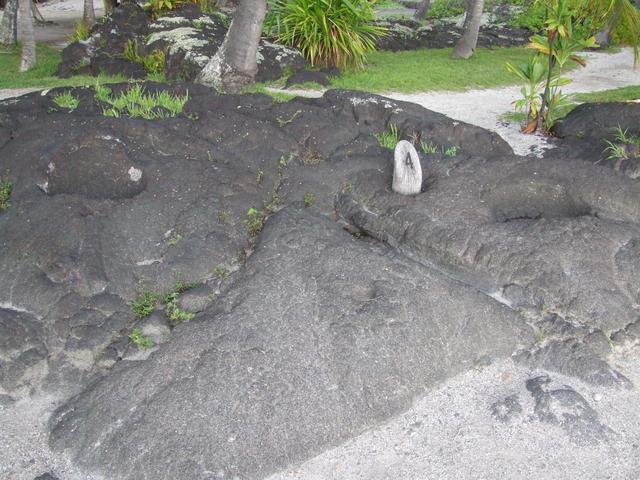 #4: "Kanoa: Bowls carved into the rock may have been used to hold dye, evaporate ocean water to make salt, or pound the 'awa root to prepare a ceremonial drink." [1744x1308]
---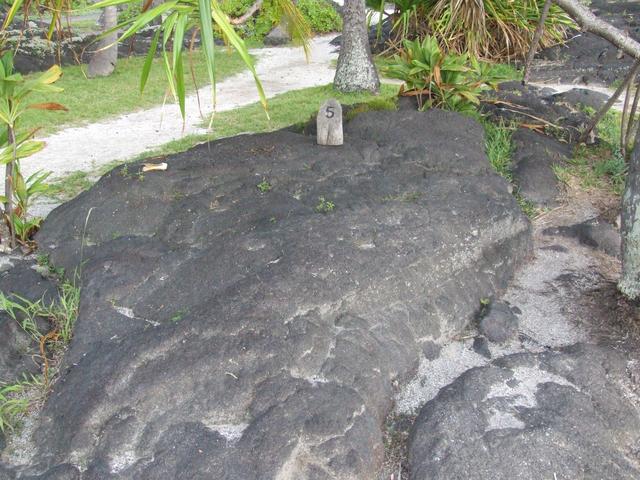 #5: "Tree Mold: More than 1,000 years ago, lava from Mauna Loa surrounded everything in its path and knocked down a tree that once stood here." [1744x1308]
---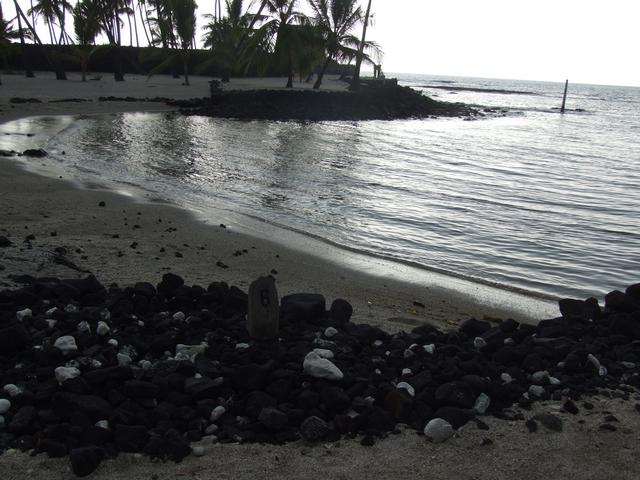 #6: "Keone'ele: This cove was the royal canoe landing, forbidden to all commoners." [1744x1308]
---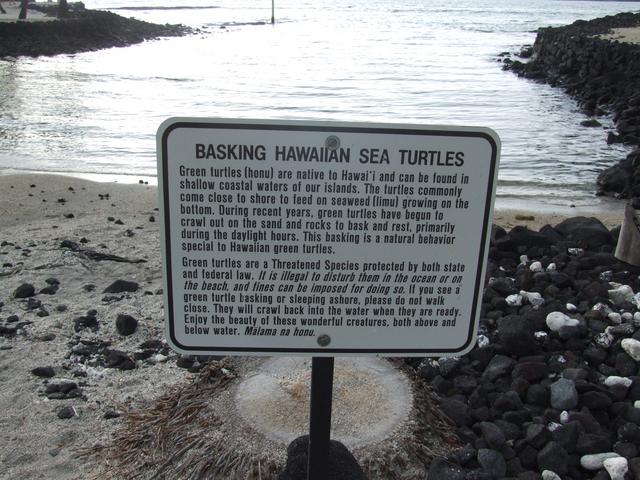 [1744x1308]
---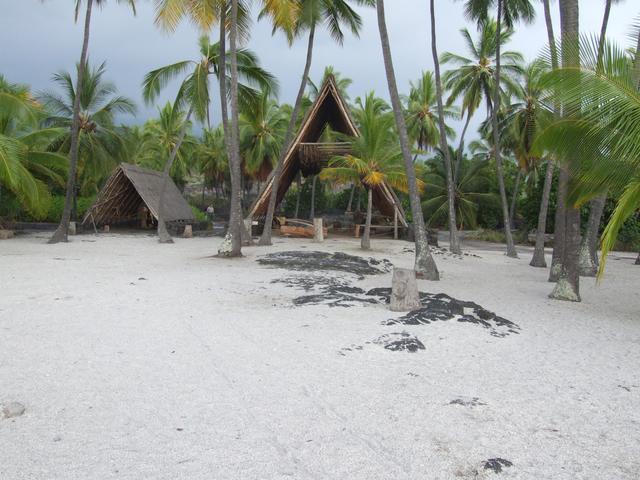 #7: "Halau: The ti leaves hanging from the roof of this work structure were tied to a rope and used to drive fish into the shallows -- a fishing method called hukilau." [1744x1308]
---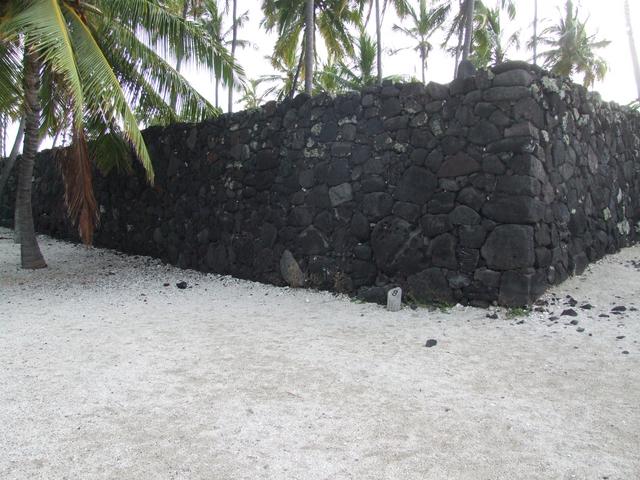 #8: "The Great Wall: Separating the royal compound from the pu'uhonua is a wall up to 10 feet high and 17 feet thick. Stones were carefully fitted together; no mortar was used in construction. Built around 1550, the wall has been stabilized and repaired." [1744x1308]
---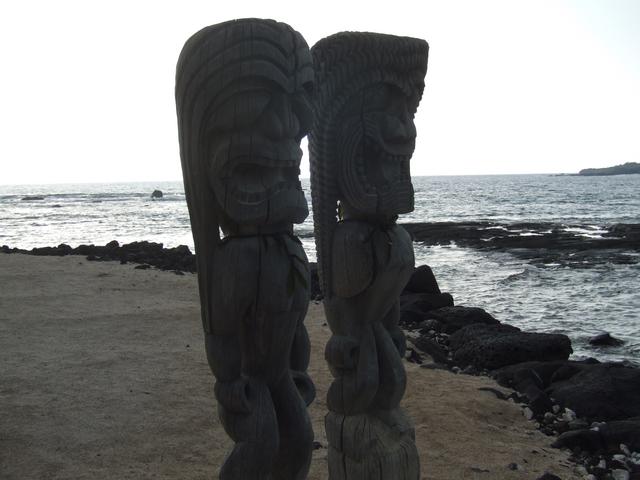 [1744x1308]
---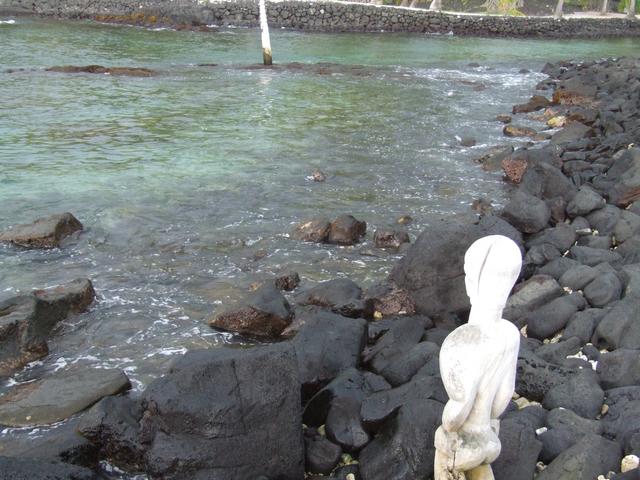 [1744x1308]
---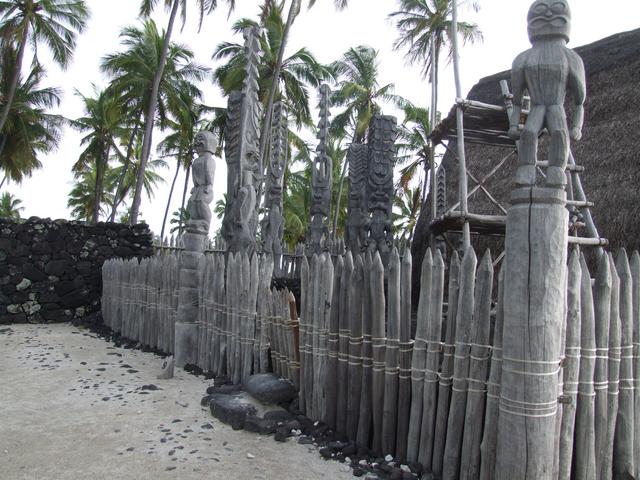 #9: "Hale o Keawe: Ki'i (wooden images) stand watch over the construction of a temple and mausoleum which housed bones of 23 ali'i. Ho'okupu (offerings) were placed on the lele (tower)." [Closer]
---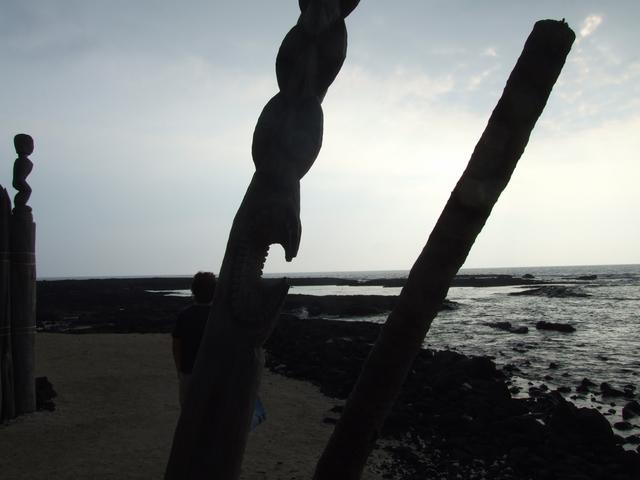 [1744x1308]
---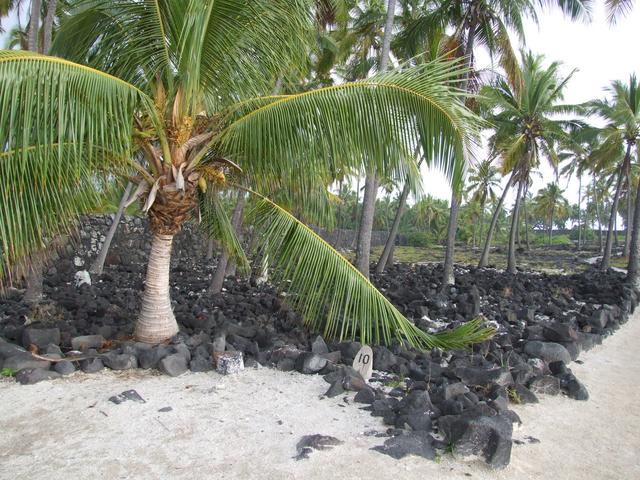 #10: "Pu'uhonua: Imagine another scene: You have broken a kapu. Pursued by warriors, you swim across the bay. Just as they close in, you reach the shore of the pu'uhonua. You are safe - no one may shed blood here - and you give thanks to the gods. Soon you will be absolved by a priest and allowed to return home." [1744x1308]
---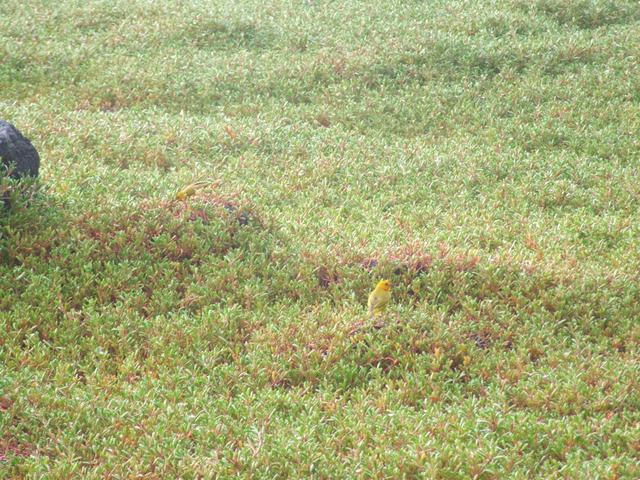 There were quite a few of these small yellow birds. [Closer]
---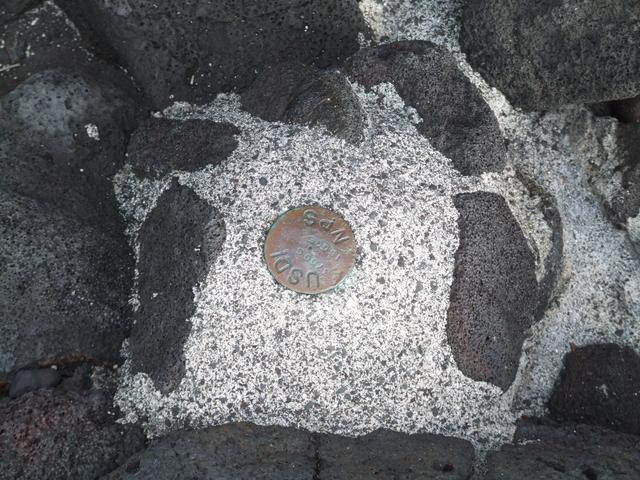 National Park Service marker. [Closer]
---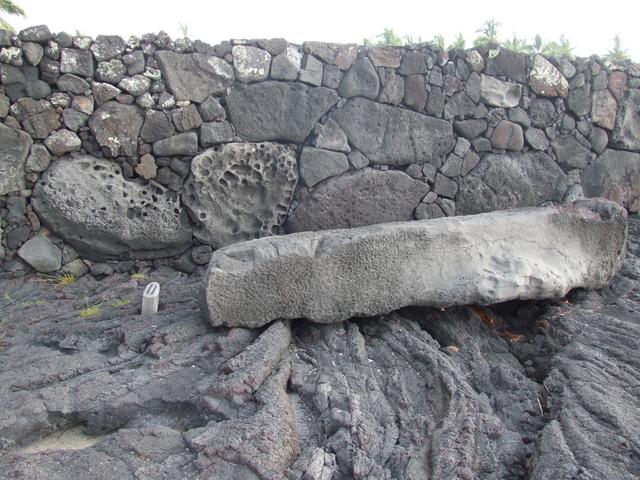 #11: "Keoua Stone: Mark Twain reported in his Letters from Hawaii that the stone was the favorite resting place of Keoua, high chief of Kona. The holes at the base may have supported posts for a canopy." [1744x1308]
---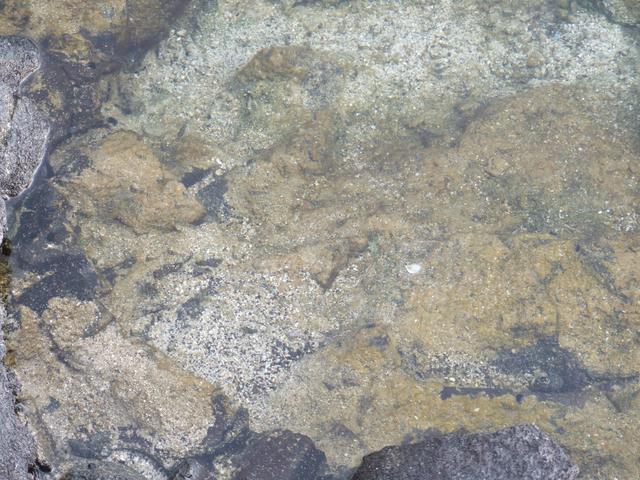 Hard to see, but there were a lot of shrimp in this tidal pool. [Closer]
---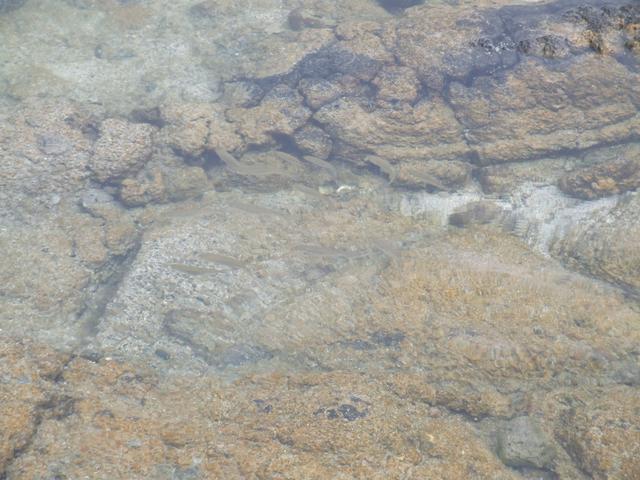 A school of fish in the tidal pool. [Closer]
---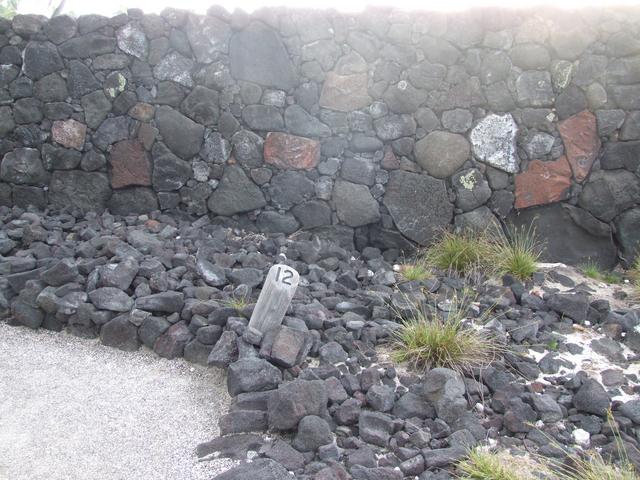 #12: "'Ale'ale'a: During its time as the principal helau for the pu'ihonua, this platform likely had ki'i and thatched huts. It was contstructed in seven stages." [1744x1308]
---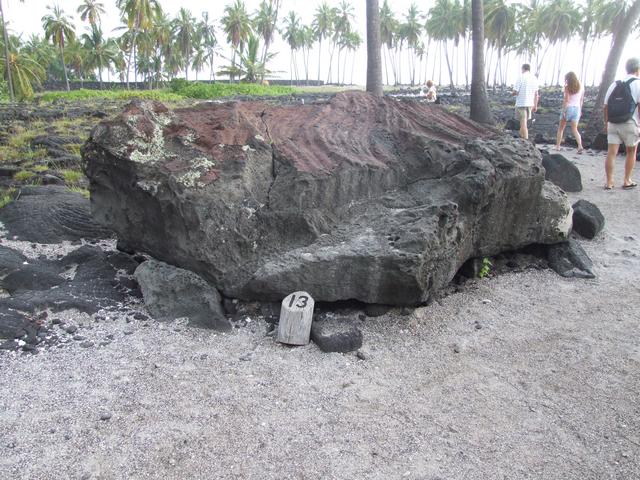 #13: "Ka'ahumanu Stone: According to legend, Queen Ka'ahumanu, favorite wife of Kamaheameha I, once swam a great distance to the pu'uhonua after a quarrel with her husband. She hid under this stone, but the barking of her dog gave her away. Her husband found her and they soon made up." [1744x1308]
---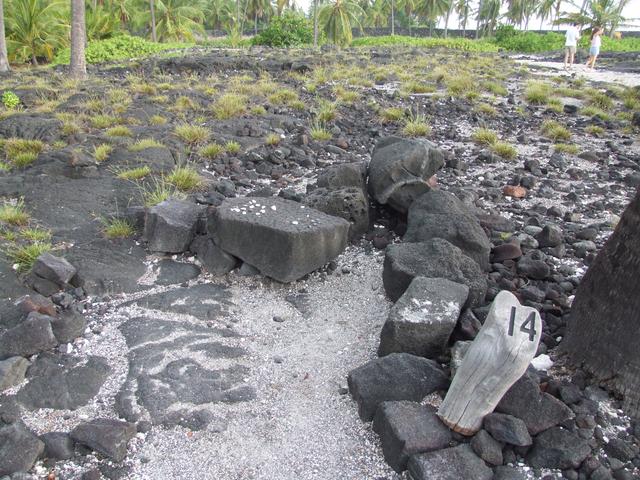 #14: "Papamu: This is an original stone used in the game of kohone." [1744x1308]
---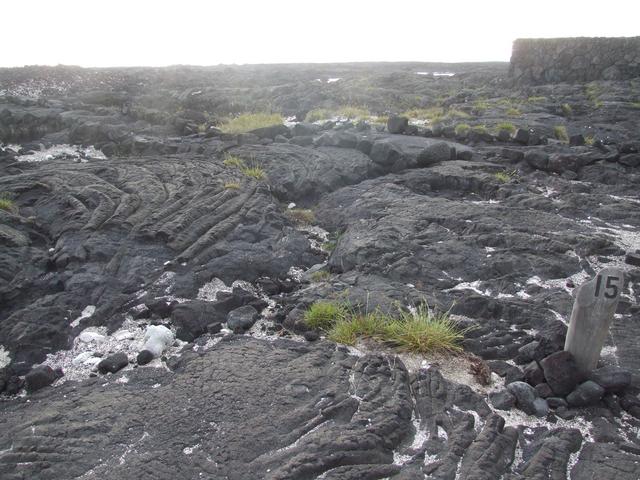 #15: "Old Heiau Site: These stones are all that remain of a very old temple, the name of which has been lost with time. One of the oldest structures in the pu'uhonua, it has been revaged over the centuries by powerful ocean waves." [1744x1308]
---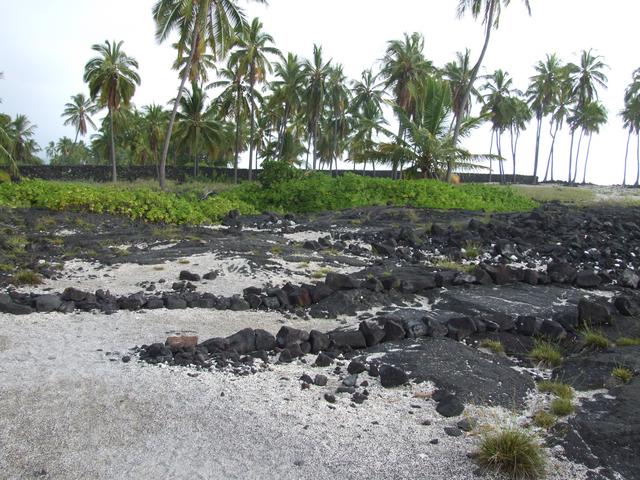 [1744x1308]
---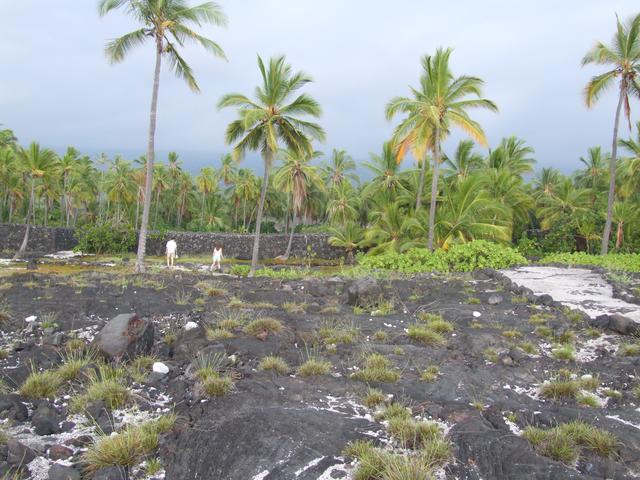 [1744x1308]
---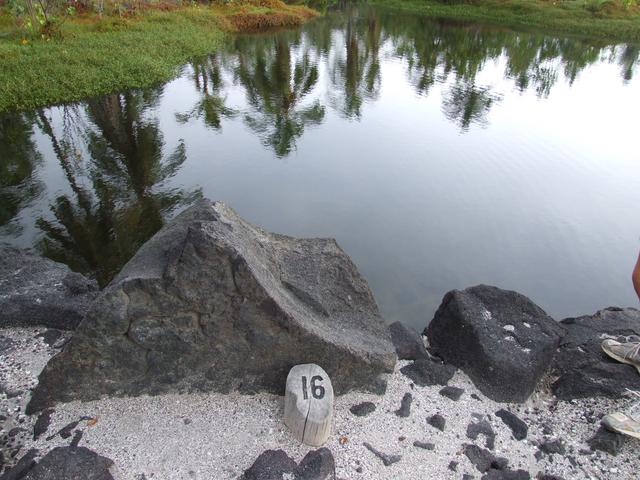 #16: "Heleipalala: This pond - a mixture of springwater and saltwater - held food fish to be eaten by the ali'i." [1744x1308]
---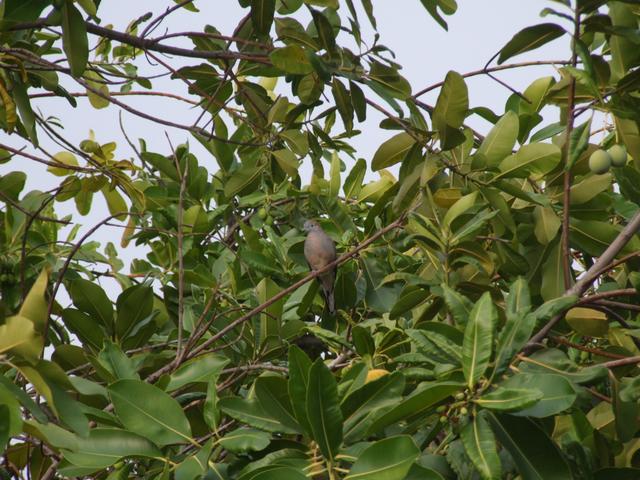 A bird back in the parking lot. [Closer]
---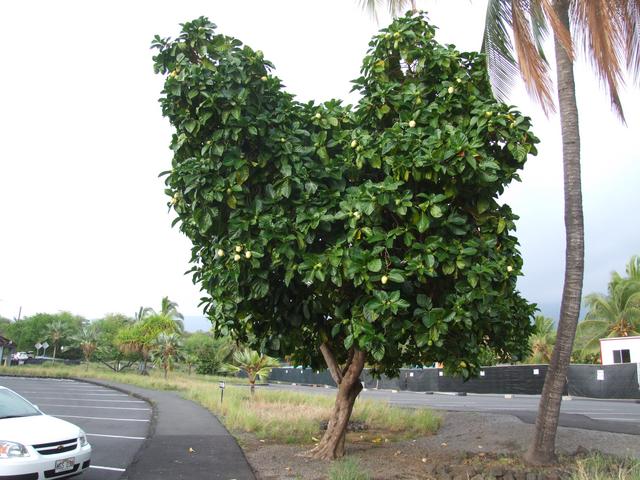 Not sure what this tree is. [1744x1308]
---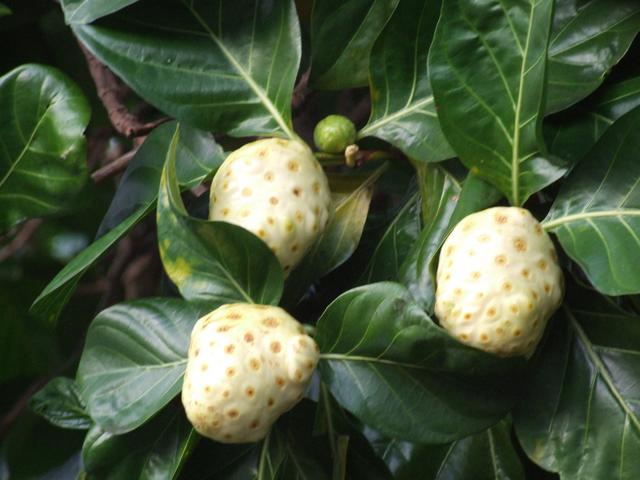 This is its fruit. [Closer]
---
E-mail domain: teresco.org, username: terescoj - Thu Aug 31 14:01:55 HST 2006
---
Copyright notice: All images are copyright © James D. Teresco unless otherwise specified. Unauthorized use is prohibited.
---