Hiking in the Adirondacks - August 26-27, 2000
This page contains the story and pictures from an overnight hike in the Adirondacks of New York State that Terry Hayden, Jeff Nesheiwat, Amitha Perera and I did on August 26 and 27, 2000. The pictures were taken with my Sony Mavica FD-7 digital camera. All images are 24-bit JPEGs and should be viewed on a 24-bit display. Quality is likely to be very poor when viewed on an 8-bit display.

I have arranged the actual images on a number of smaller pages, linked from the text below. Some links are to a single image, while others link to a page containing a number of related pictures.
Saturday, August 26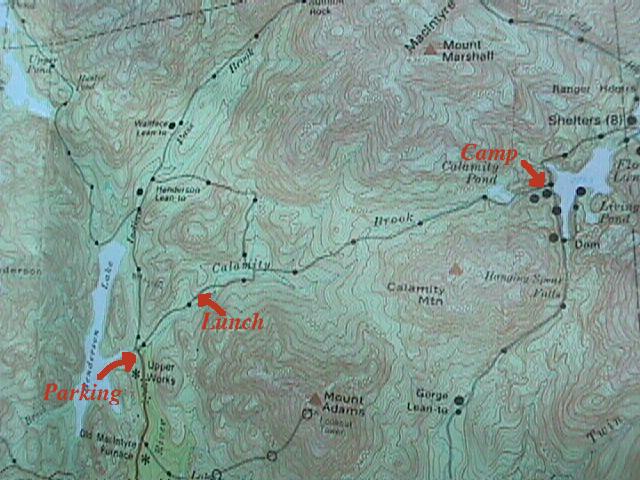 We left Troy on Saturday morning and were on our way. Four people and four packs ready to attempt to survive a night in the Adirondacks. Along the way up, we stopped in Warrensburg to pick up sandwiches, and arrived at our starting point for the hike a little before noon. We parked at the Upper Works Parking lot [2 Pictures], which is at the end of Essex County Route 25, just South of the High Peaks area. We started out with a goal of setting up camp at Lake Colden, about 4 miles in. After about a mile, we found a nice spot for lunch [3 Pictures]. We spent much of the afternoon making our way up the rocky, muddy trail, along Calamity Brook with occasional rest stops [2 Pictures]. By late in the afternoon, we arrived at the lake [4 Pictures] and found a place to make camp for the night [2 Pictures], right near the lake in a state-approved "Camp Here" location. After setting up, we cooked some "Noodles and Sauce" for dinner and learned first hand that anything tastes good when you're really hungry. After it was completely dark, we took a walk by the lake and got to see a whole lot more stars than you see in the city, on what started out as a very clear night.
Sunday, August 27
Our Sunday morning started extra early when we were awakened by rain during the early morning hours. We got up to put rain covers on the tents and got everything important inside. It rained for much of the night, but had stopped by morning. We looked around some more and purified some water in the morning [10 Pictures]. Amitha and I considered a short hike to somewhere else before putting the packs on, but with the rain and the trail already muddy before it rained, we decided it was best to be on our way. So we packed up [2 Pictures] and got started toward the car [20 Pictures], taking a few hours to make the walk. We stopped for a snack at one of the crossings, and it was here that I dropped Amitha's camera into the water... [2 Pictures]. We hiked the rest of the way out [2 Pictures], getting to the car by mid-afternoon. After the drive back to Troy, we unpacked a bit, got a nice dinner at Dakota in Latham, and I headed back to Williamstown.
---
E-mail domain: teresco.org, username: terescoj+pics - Wed Jan 24 17:20:42 EST 2001
---
Copyright notice: All images are copyright © James D. Teresco unless otherwise specified. Unauthorized use is prohibited.
---