Québec Trip - June 27-30, 2011
These pictures were taken with my Fujifilm Finepix S9000 digital camera on a trip to Québec, Canada, June 27-30, 2011. Images are shown at a resolution of 640x480, but many are available cropped from the originals or in half of original size by clicking on the links after the captions.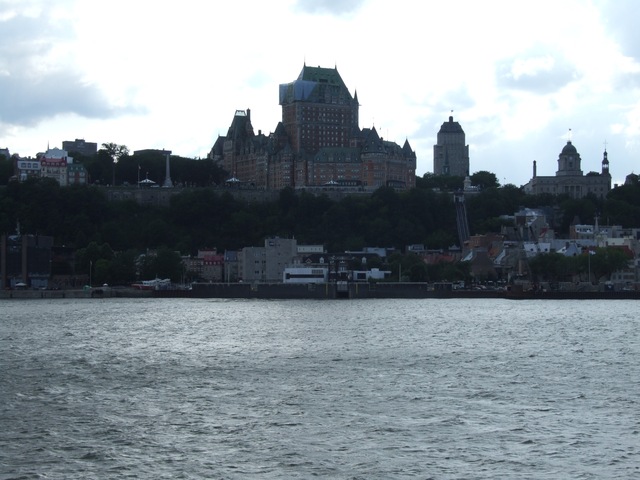 Monday, June 27, 2011
We dropped off the kid and were on our way north not much after 8 AM. With no real schedule to keep, we went straight up Route 30 through the Adirondacks. We made brief stops at the Northville boat launch [Picture] on the Great Sacandaga Lake, at an overlook near Indian Lake [3 Pictures] and for a side trip on Route 421 near Tupper Lake [26 Pictures]. From there, we continued north [9 Pictures (all signs)] and got an excellent lunch in Malone [12 Pictures] before continuing to the Canadian border [5 Pictures (all signs)]. In Quebec, we drove up Route 138 (the continuation of Route 30 when it crosses) then got onto the autoroutes [24 Pictures] to get to our motel in Brossard. After checking in, we took a ride [6 Pictures] to Île Saint-Hélène and Île Notre-Dame and walked around a bit [8 Pictures]. Then it was into Montréal [2 Pictures], mainly the Vieux-Montréal area [13 Pictures]. Since our parking meter time was limited, we headed back to Brossard [4 Pictures] for dinner, and got takeout chicken from St. Hubert, a regional chicken chain.
Tuesday, June 28, 2011
We had all day to get from Montréal to Québec, so we started the day by driving around Montréal [12 Pictures (signs)] with the goal of visiting the Parc du Mont-Royal, the mountain in the city which overlooks the downtown area and the river. We eventually worked our way there, and took some time to walk around [9 Pictures]. Unfortunately, this resulted in a bit of a bloodied up knee for Cathy after a little slip. But after a little cleanup, we were able to carry on [Picture]. Our next goal was lunch, which we found at a chain called Mikes. From there, it was onto Autoroute 40 toward Québec [11 Pictures (signs)]. We stopped about halfway to look around Trois-Rivières [18 Pictures], then continued on to Québec [10 Pictures]. Our schedule put us into the city right during the afternoon rush, so it was a slow trip around the northwest side of town [19 Pictures] to get to our motel on the northeast side in the Beauport area. But we made it, checked in, then decided to see Montmorency Falls on the northeast edge of the city. We parked (for $9.75!) and walked around quite a bit of the area [24 Pictures and 1 Movie]. By the time we were done, it was getting late, so we decided to get take-out fast food dinner (including poutine [Picture]) from the local Chez AshTon.
Wednesday, June 29, 2011
This was our full day in Québec. We were in no great rush in the morning, but were parked in Vieux-Québec by mid-morning [5 Pictures]. Most of the day involved extensive walking. We started near the Place d'Armes for some views of the St. Lawrence [9 Pictures]. We proceeded along the Promenade des Gouverneurs along the cliff outside the walls of the Citadelle [16 Pictures]. We made our way next to the Québec parliament building [10 Pictures], back into the old city through Port St.-Louis [3 Pictures], then along the Parc de l'Esplanade. We left the old city again by Porte St.-Jean [7 Pictures] and walked west along Rue Saint-Jean [3 Pictures]. We made a few stops along the way, most notably the small store with a chocolate museum [2 Pictures], at the Églese de Saint-Jean-Baptiste [10 Pictures], and then for lunch at Le Sultan Café [Picture]. After lunch (during which the only downpour of the day occurred), we returned along Rue Saint-Jean to the old city and made our way down [10 Pictures] to the Marché du Vieux-Port [6 Pictures]. We made a quick walk through there and proceeded to the Place-Royale and Quartier Petit Champlain areas near the river [21 Pictures]. We looked around there for a while and decided it would be a good idea to stick around in the city long enough to get dinner. With a little time before we would be ready for that, we decided to take the ferry across to Lévis and back -- the poor man's scenic cruise on the St. Lawrence [32 Pictures]. After our "cruise" was complete, we took the funiculaire back up the hill [7 Pictures]. We chose to get an early dinner and headed for [Picture] an asian restaurant called L'Apsara [Picture], which was very good. After dinner, we walked in search of some ice cream (ended up with some gelato) [2 Pictures], stopped at the Basilique-Cathédrale Notre-Dame de Québec [4 Pictures], then back to the car. Not sure how far we walked, but it was a lot. On the ride back, we took a slightly scenic route to go by the Colisée where the Nordiques used to play [12 Pictures].
Thursday, June 30, 2011
Just the ride home on this day. We got an early start out of Québec, didn't encounter too much morning rush traffic, then took A-40 to A-73 to A-20 to A-30 to A-15 to the border. The wait at customs was almost 25 minutes, but other than that it was a quick and easy ride [58 Pictures (signs)].
---
E-mail domain: teresco.org, username: terescoj - Fri Jul 1 23:05:36 EDT 2011
---
Copyright notice: All images are copyright © James D. Teresco unless otherwise specified. Unauthorized use is prohibited.
---