Baseball at Safeco Field, June 23, 2000
Nathan and Andrew were able to get Cray's corporate seats in the Diamond Club for four of us. Not only was the location outstanding, but everything about it was impressive. More below.
---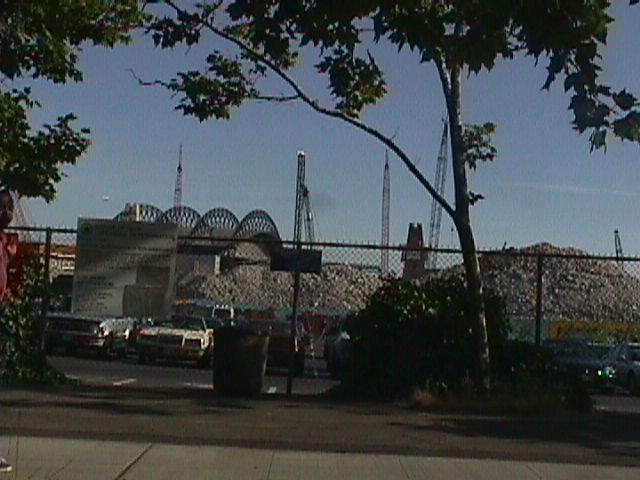 Approaching Safeco Field, looking at it across the rubble of the Kingdome.
---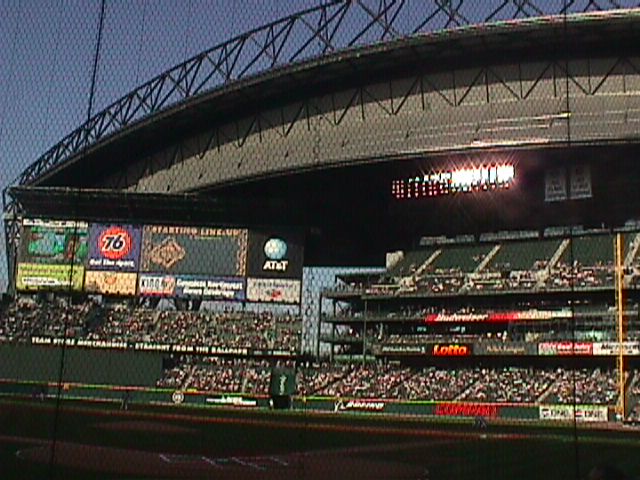 We're in. Not bad. Yes, that's the view from our seats.
---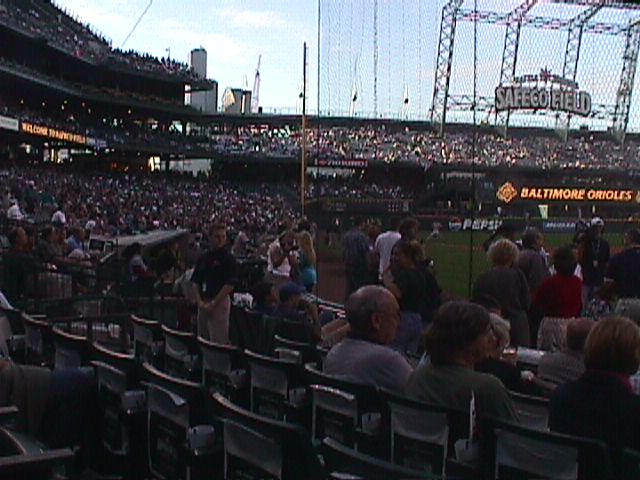 Seventh row, right behind home plate.
---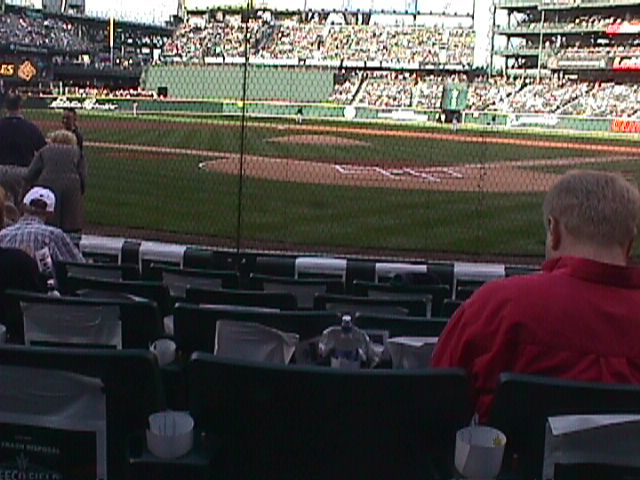 I'm not kidding, these are our seats. Notice the menus in each cup holder. In the Diamond Club, there is waiter service and everything is included. I asked where to buy a program and the usher went and got me one. Unfortunately, there were 6 of us, and only 4 great seats. Nathan and Roddy volunteered to use the commoner seats while the rest of us saw the whole game from the Diamond Club. Next time they will get the good ones.
---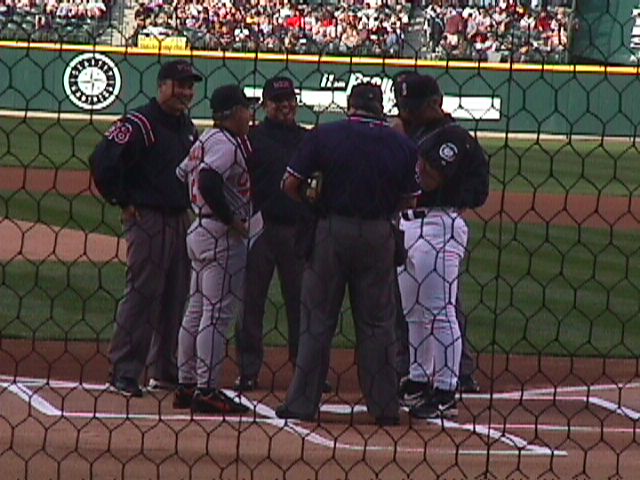 The exchage of lineup cards.
---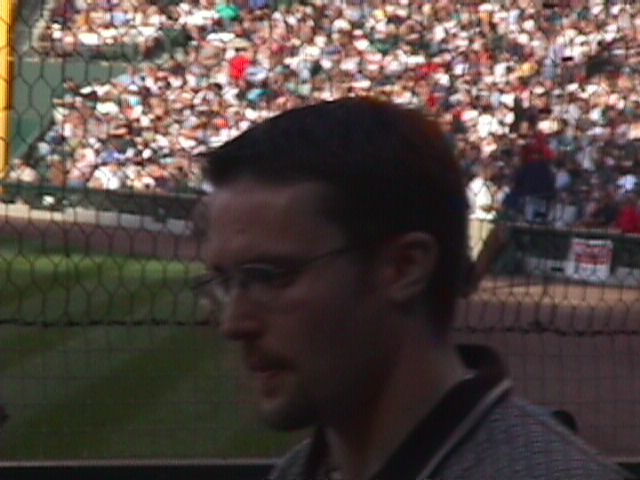 Some random guy who got in the way of my picture.
---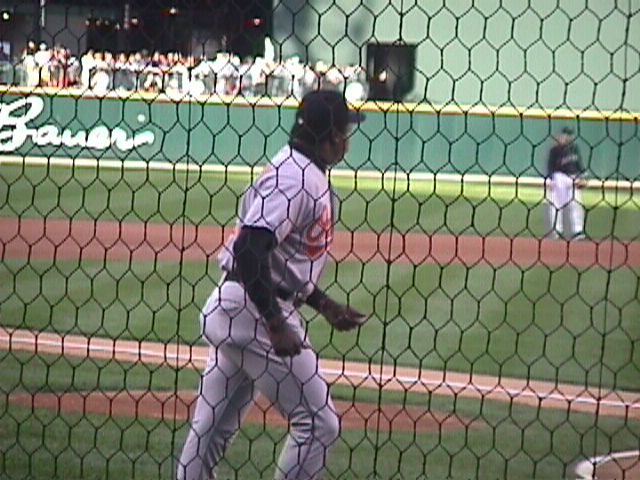 Orioles coach Eddie Murray.
---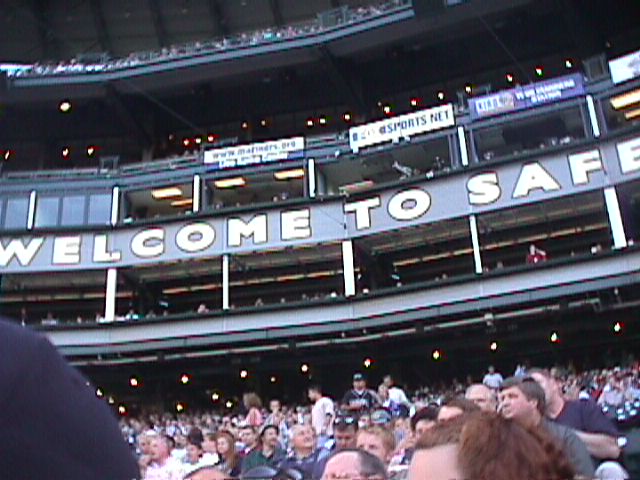 Looking back at the press box area.
---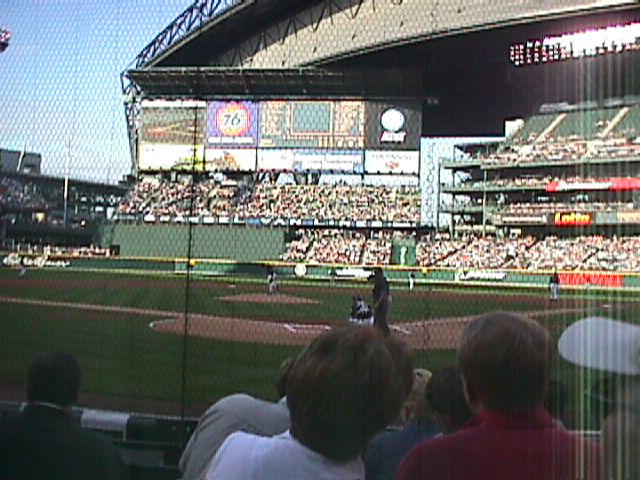 The game is about to begin.
---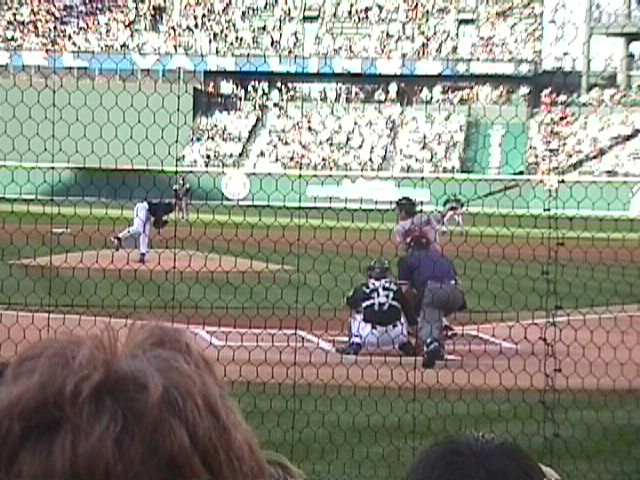 Strike to Brady Anderson by Mariners starter Gil Meche. One problem with the usher getting my program is that he didn't get me a scorecard. But I eventually got one and was able to reconstruct a card. The problem with the scorecard was that it was sponsored by Microsoft.
---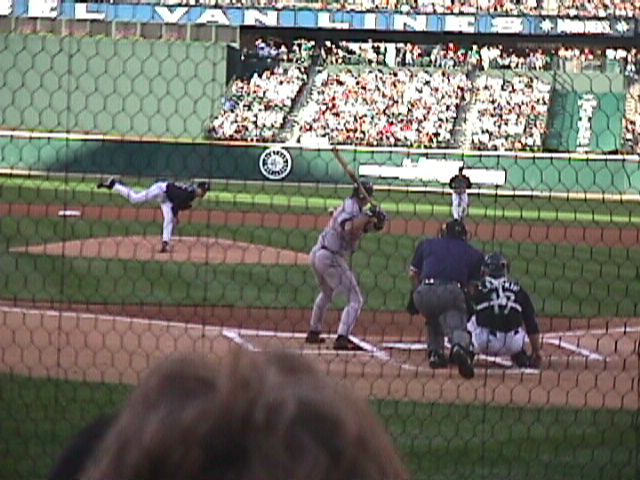 This might be Mike Bordick.
---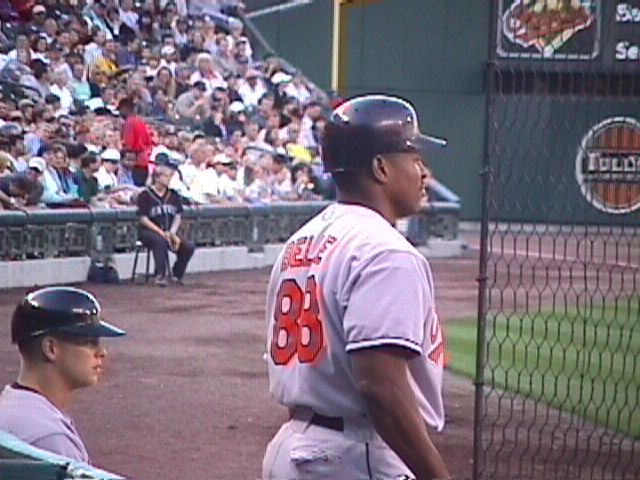 Boo. It's Albert "Joey" Belle waiting on deck. If we didn't mind being thrown out, we might have thrown stuff at him.
---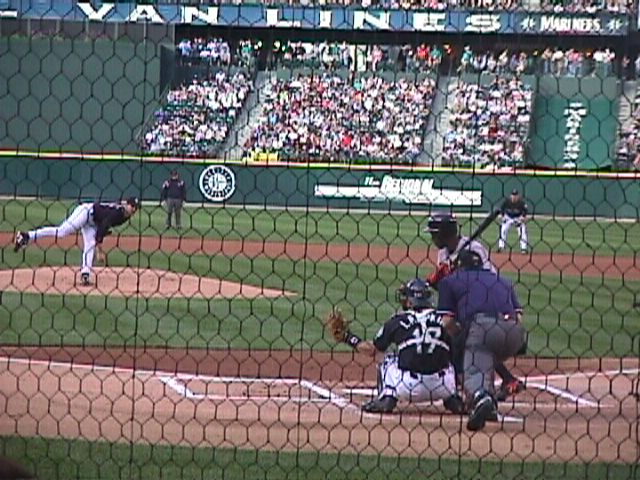 Belle at the plate.
---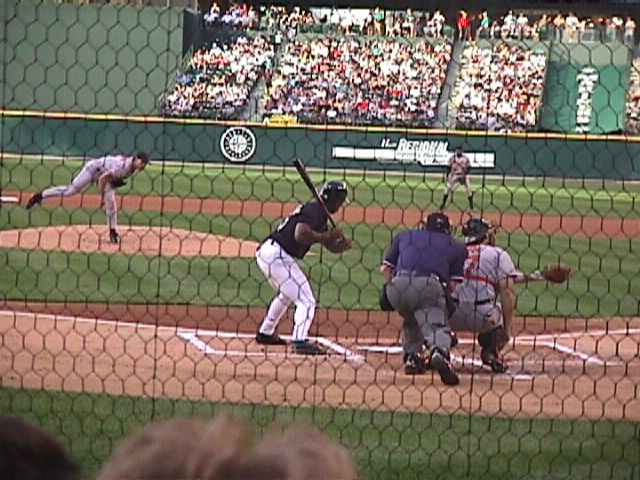 Now the Mariners are batting. That's old man Rickey Henderson stepping in against Orioles pitcher Scott Erickson. He would pop to second in this at bat.
---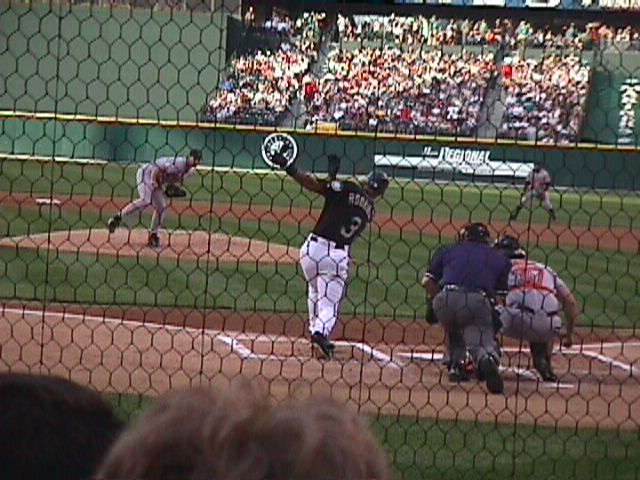 This is future free agent Alex Rodriguez at the plate. He got himself a double.
---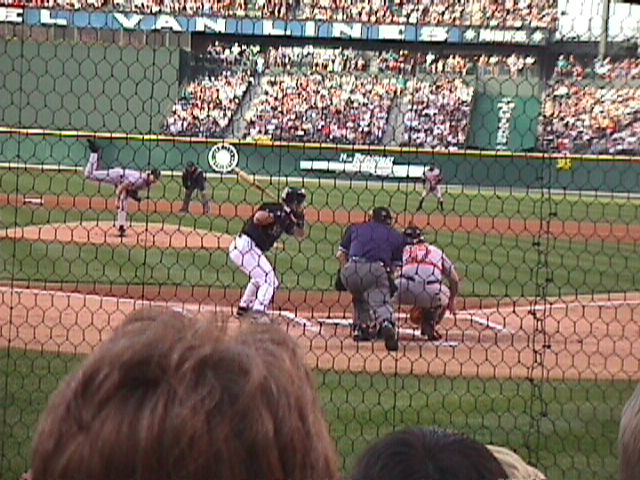 Super-DH Edgar Martinez steps in, and will take a called third strike.
---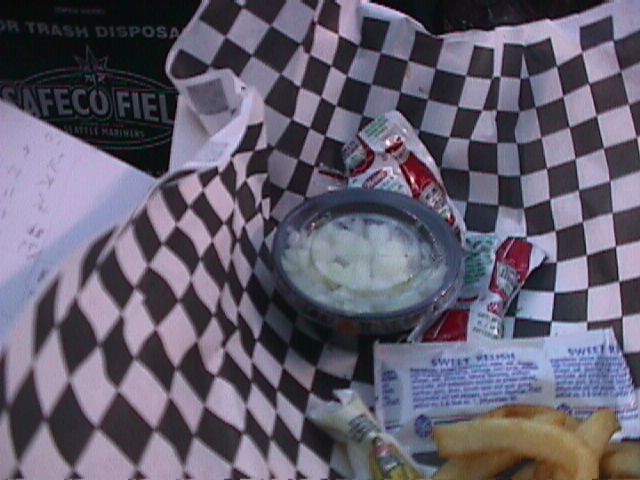 A picture taken to make sure Darren Lim is aware of what he would get if he ordered a hot dog and fries in the Diamond Club at Safeco.
---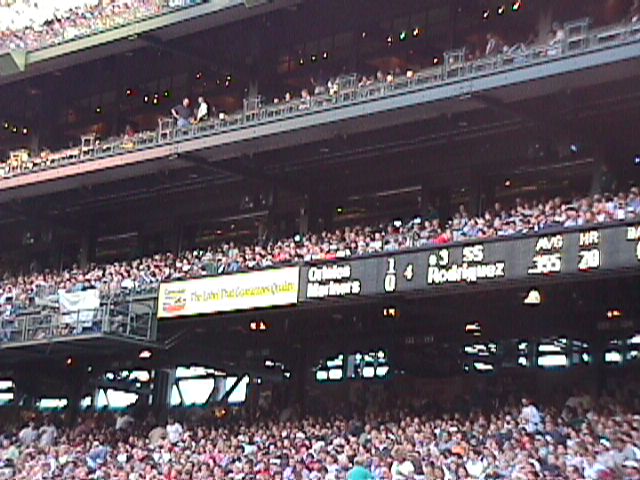 The scoreboard over on the first base side.
---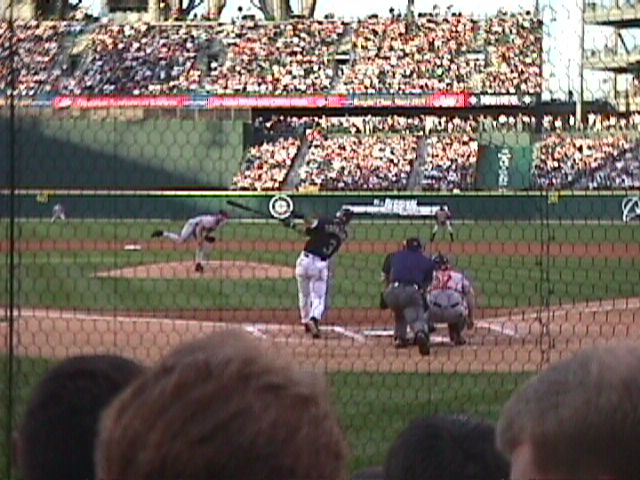 A-Rod is up again. Here, he hits another double now in the fifth.
---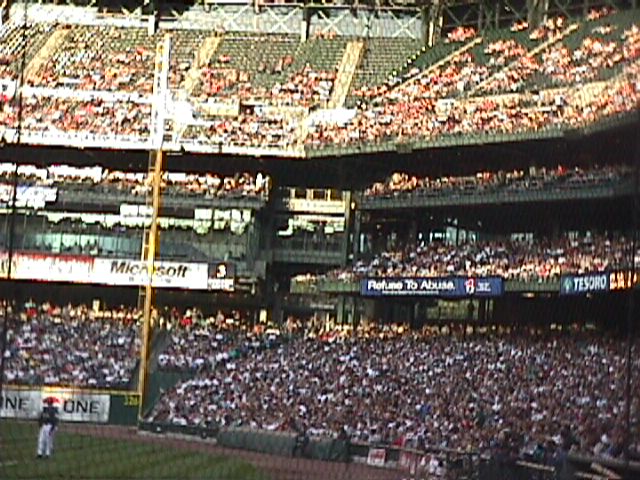 That's where Nathan and Roddy are sitting, in the lower deck, under the far corner of that "Refuse to Abuse" sign. Also seen is the Microsoft K counter thing, where Microsoft donates some embarassingly small amount of money for each strikeout by a M's pitcher.
---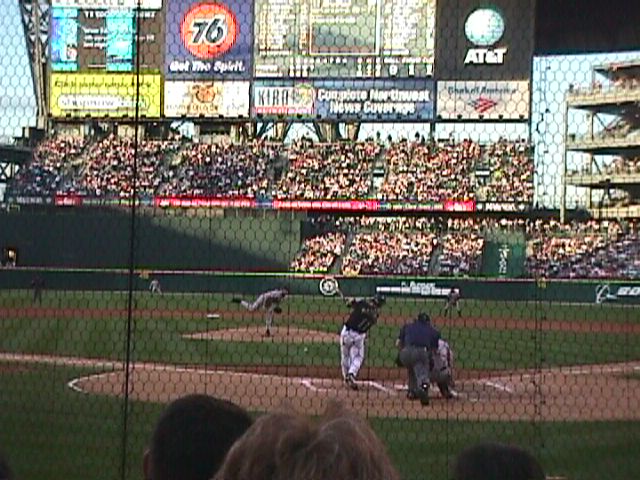 Edgar.
---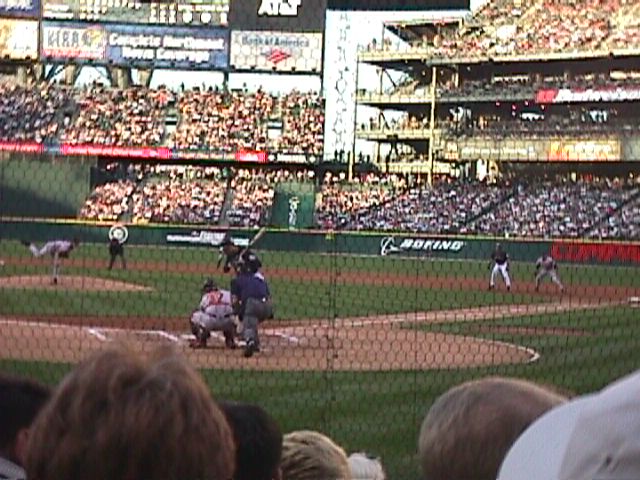 This is some Mariner batting.
---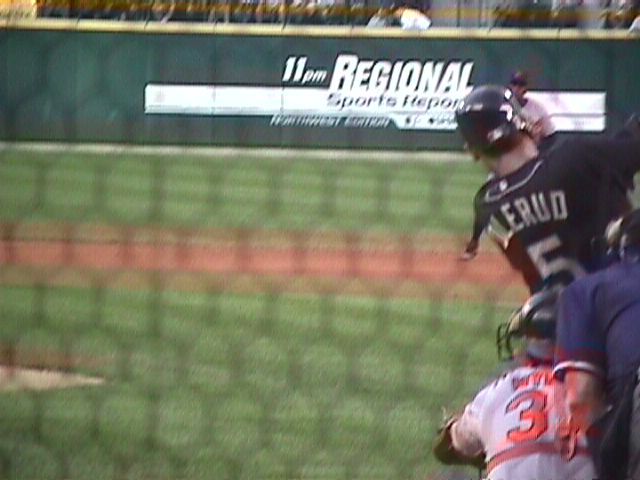 This one is clearly John Olerud.
---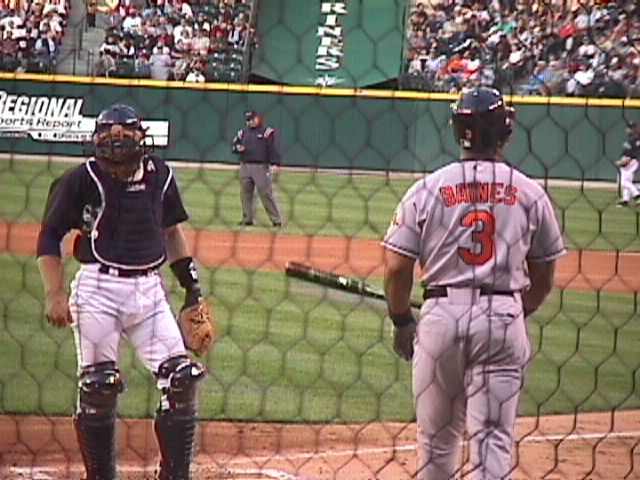 Hey, he might be older than even Rickey. That's Harold Baines.
---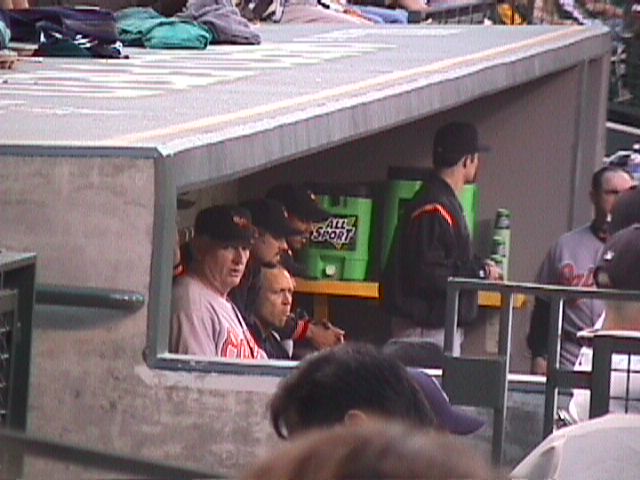 A look into the Oriole dugout. The guy with his head down lower is the injured Cal Ripken, Jr.
---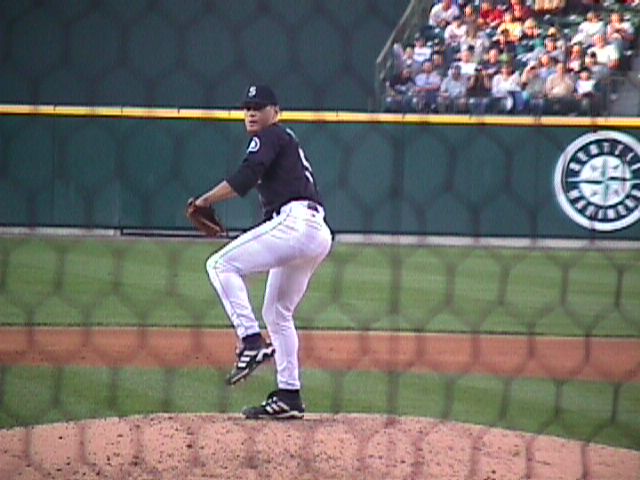 Gil Meche, now working with a lead after the M's bat around in the 5th.
---

The Mariners are up again.
---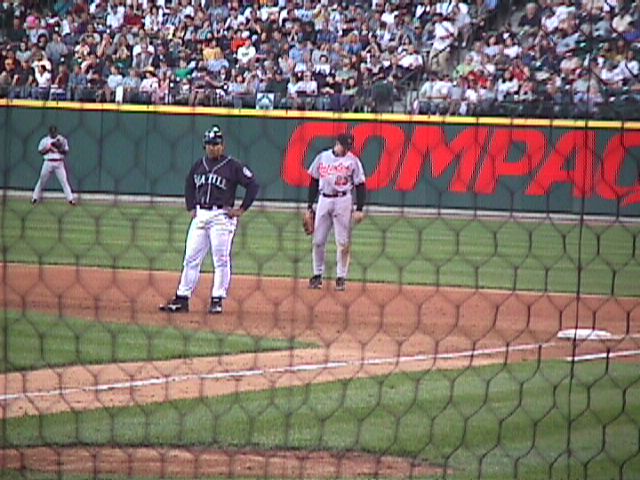 And they have a baserunner who may be Mike Cameron. That's Will Clark playing first for Baltimore.
---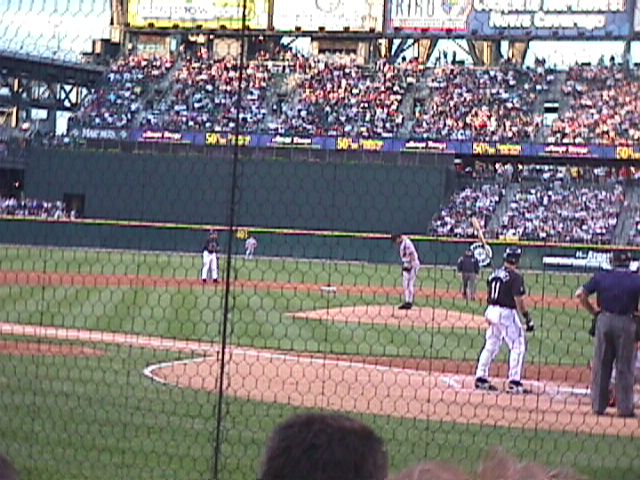 Edgar is up AGAIN?
---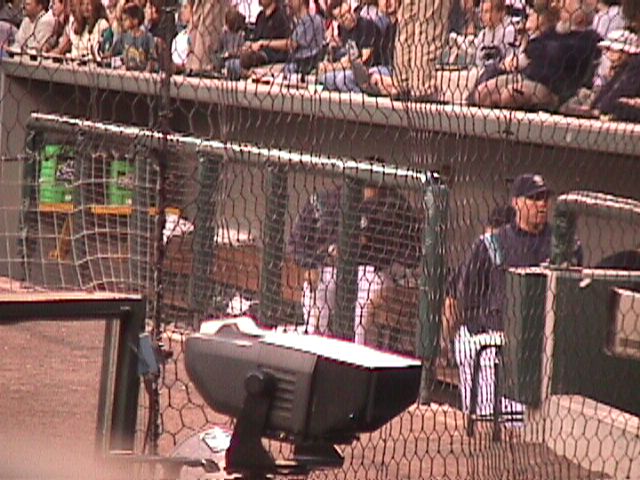 An attempt to look into the Mariners dugout.
---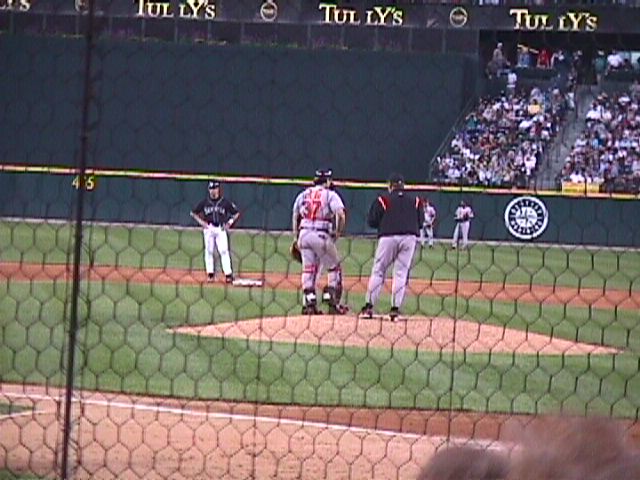 O's manager Mike Hargrove makes a change.
---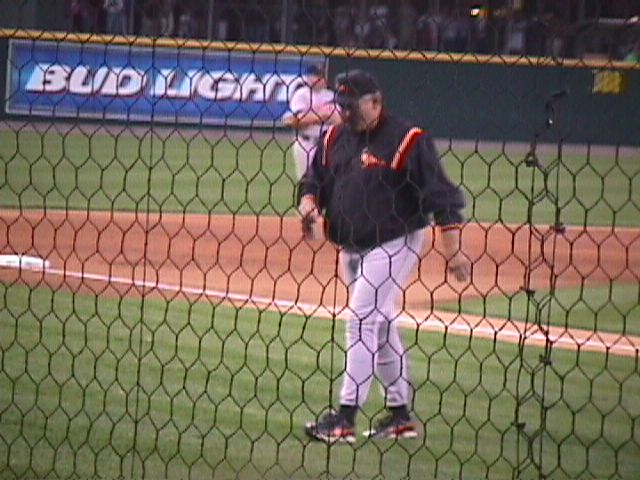 He's having about the same luck with this bullpen that he had last year in Cleveland.
---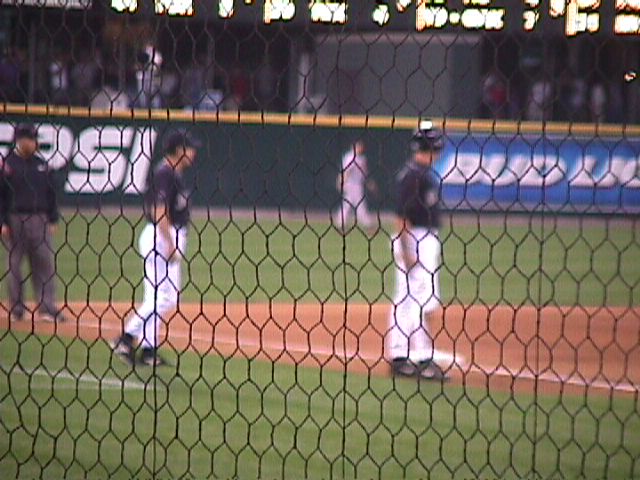 A Mariner leads off third.
---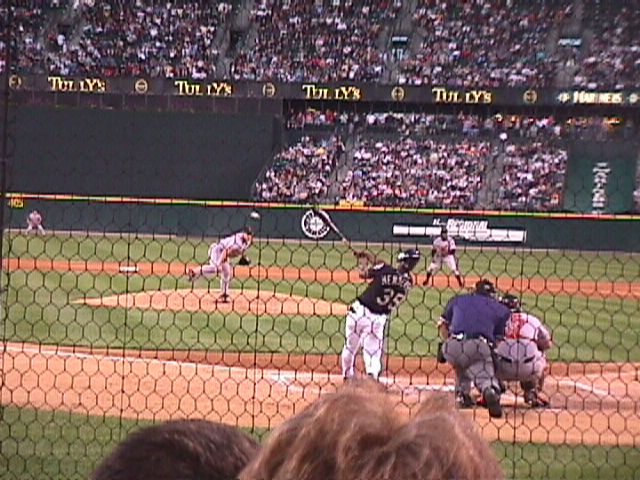 Rickey Henderson hits one back up the middle against Gabe Molina.
---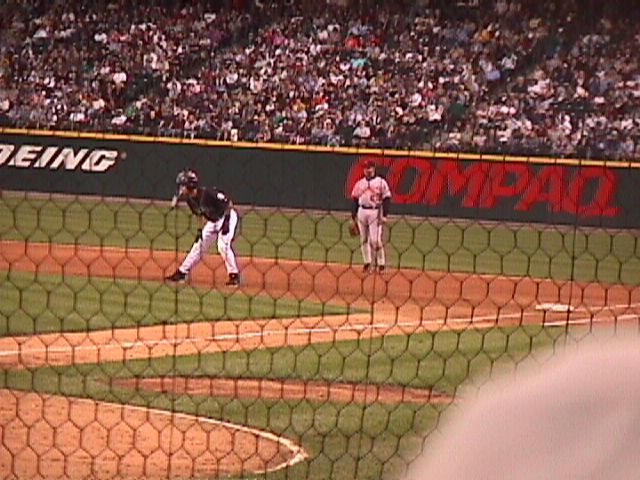 And there he is on first.
---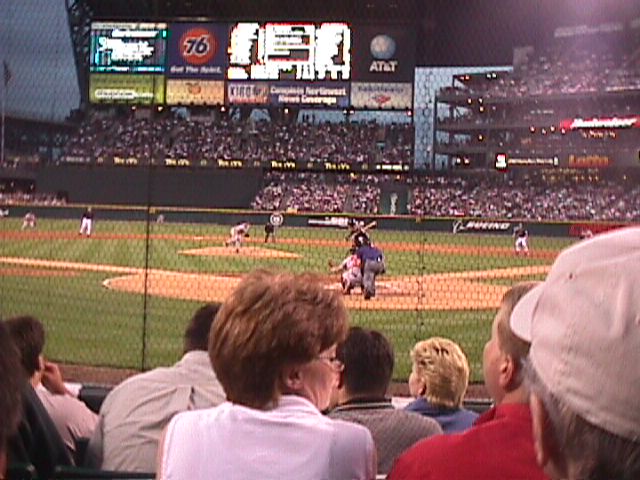 Seattle is still batting. They're putting a lot of runs on the board.
---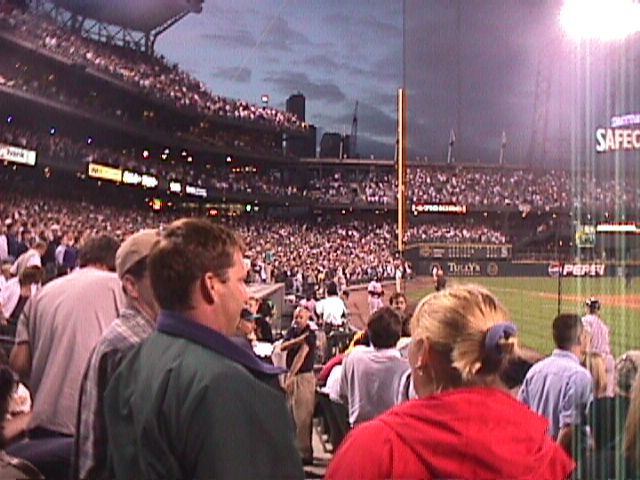 At the end of six and a half, get up and stretch!
---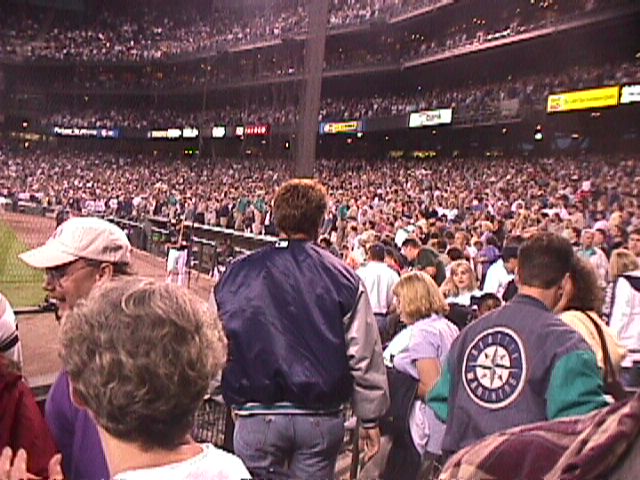 Nice seventh inning stretch in Seattle.
---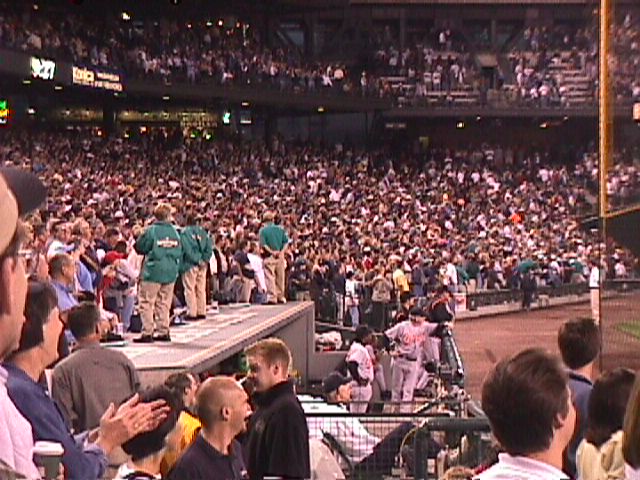 One, two, three strikes you're out..
---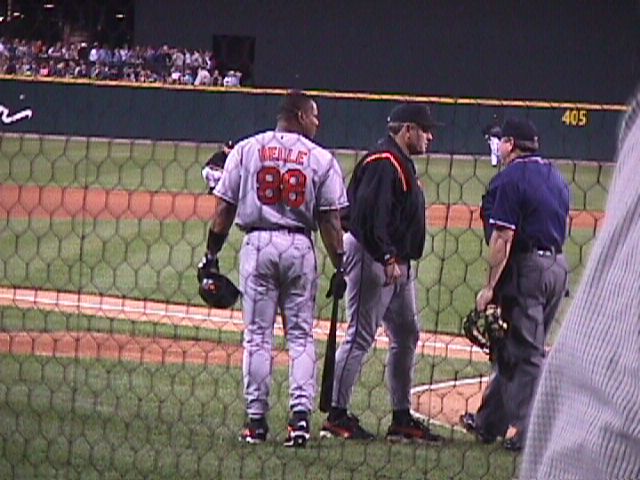 Mr. Belle didn't like a call, so Mike Hargrove comes out to break up his discussion with the umpire.
---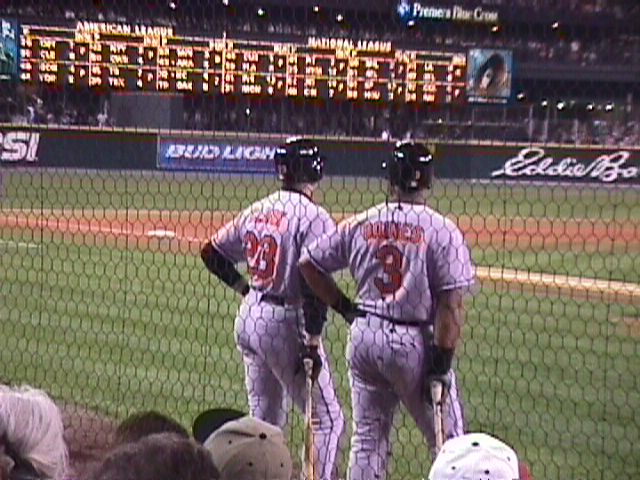 Clark and Baines await their turns.
---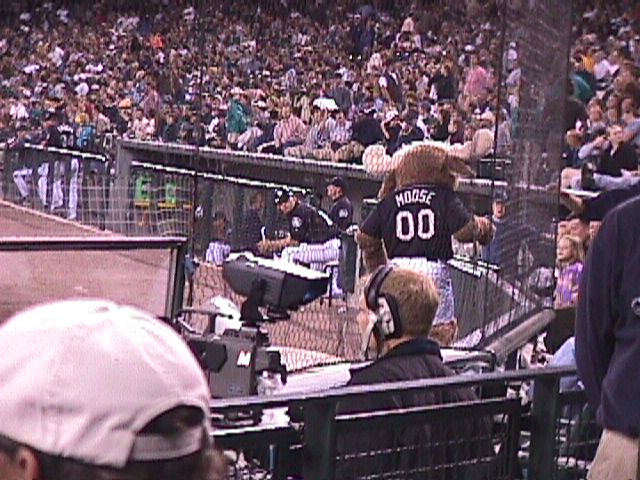 It's the Mariner Moose out to dance around.
---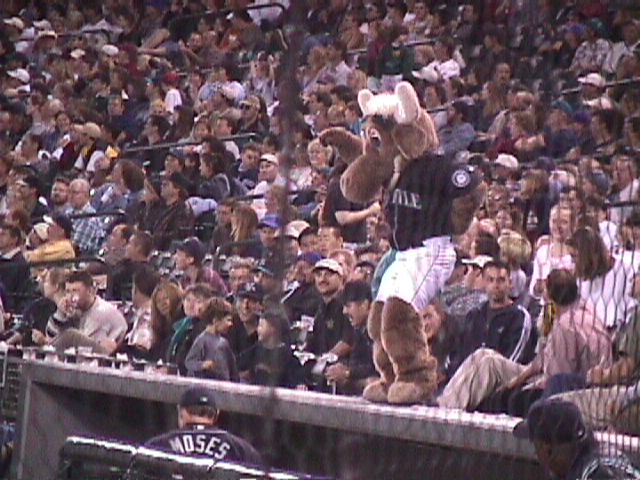 Now he's dancing on the dugout.
---

Stan Javier plays a ball in the right field corner.
---

Stan Javier plays a ball in the right field corner.
---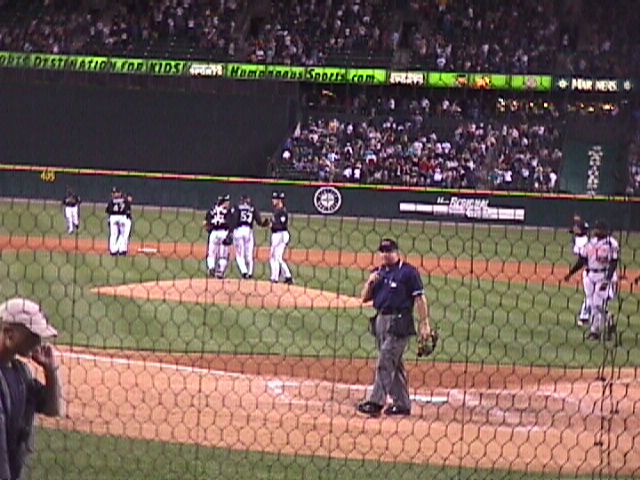 And the Mariners celebrate their win.
---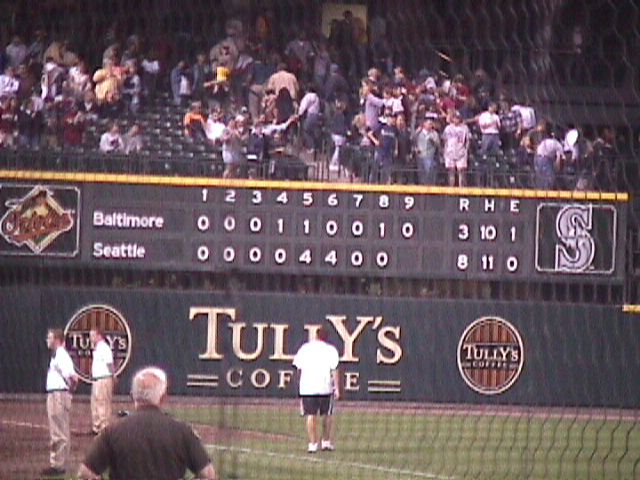 Line score..
---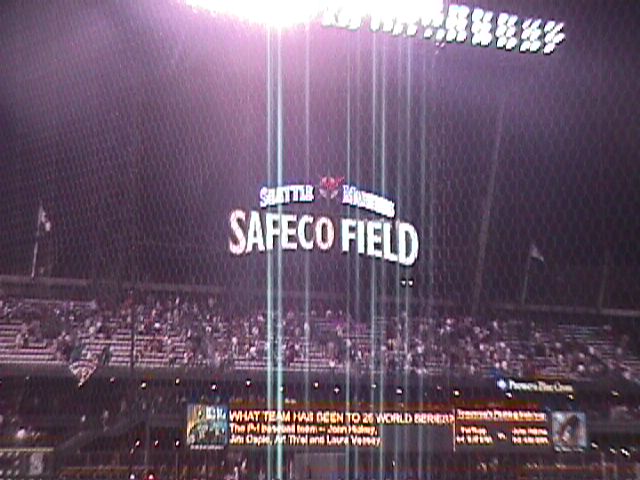 Nice stadium.
---
After the game, with my camera out of battery, they closed the roof, I guess just to show that they could. When we rode by later, it was opened back up again.
---
Copyright notice: All images are copyright © James D. Teresco unless otherwise specified. Unauthorized use is prohibited.
---