Yankee Stadium, June 17, 2000
These pictures were taken with my Sony Mavica FD-7 digital camera at Yankee Stadium on June 17, 2000 for the game between the Chicago White Sox and New York Yankees. All images are 24-bit JPEGs and should be viewed on a 24-bit display. Quality is likely to be very poor when viewed on an 8-bit display.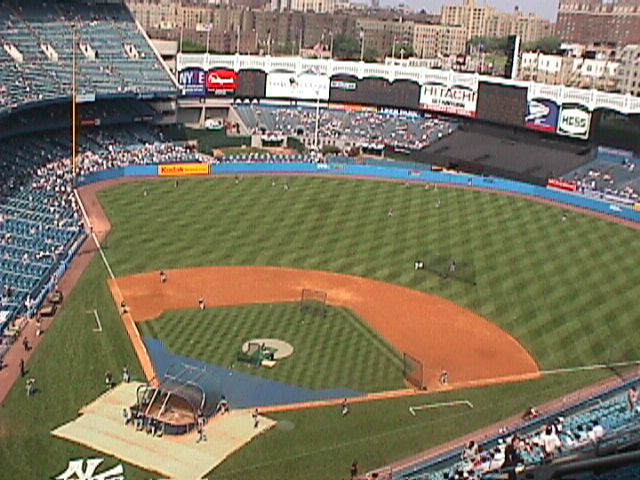 The view from Section U5, Row X -- the very top row of the upper deck.
---

Anne, Chris, and Darren in our seats, all the way at the top.
---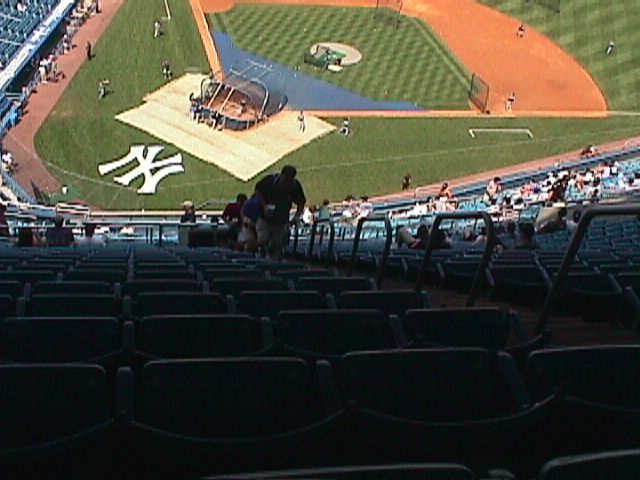 Lots of seats in front of us.
---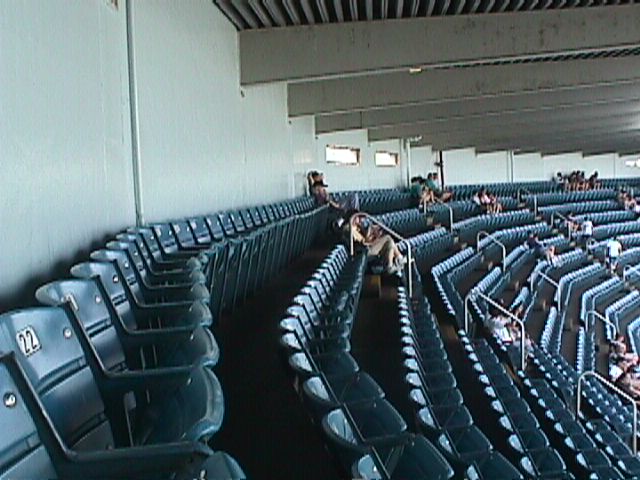 Section U5 before the game.
---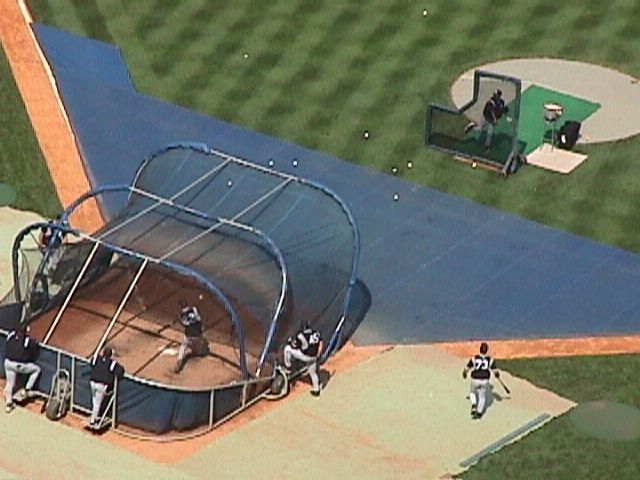 The White Sox take batting practice.
---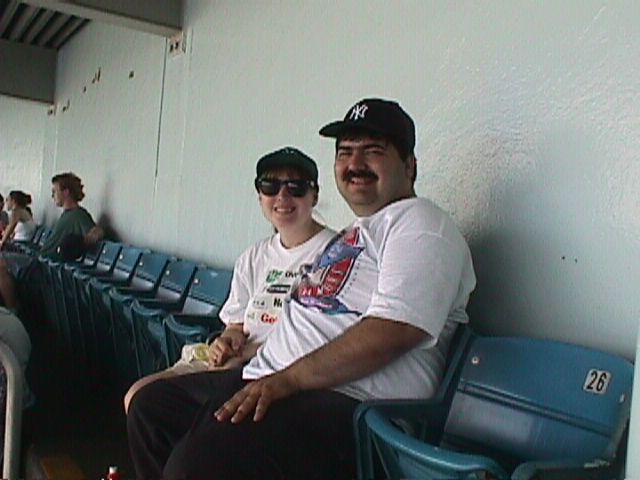 Anne and Chris.
---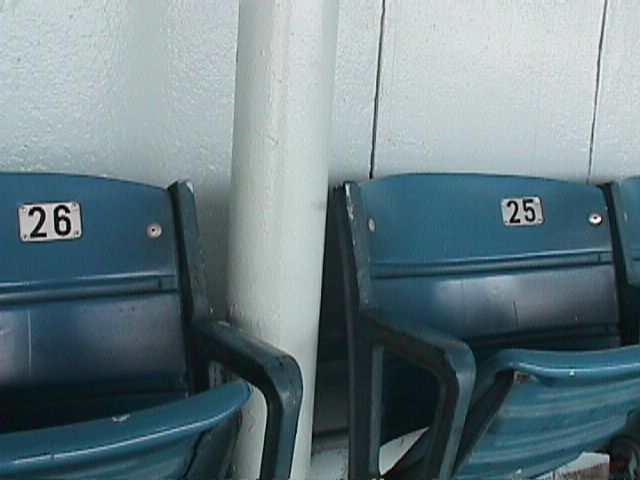 A pole next to my seat.
---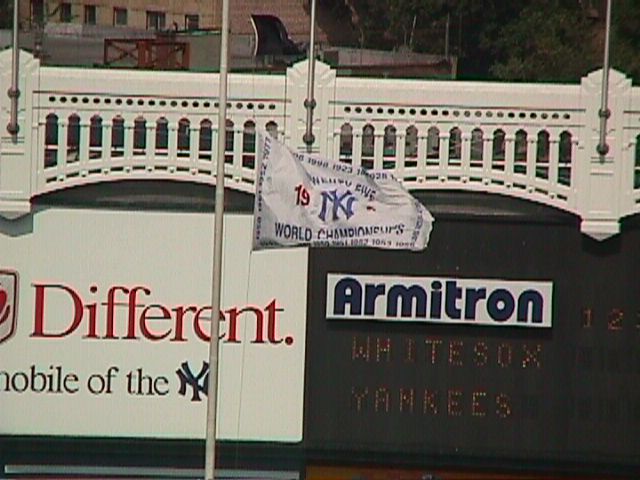 The 1999 World Championship banner.
---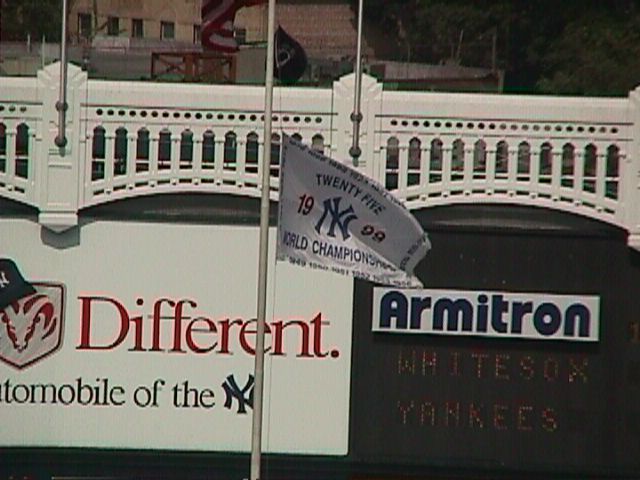 Again.
---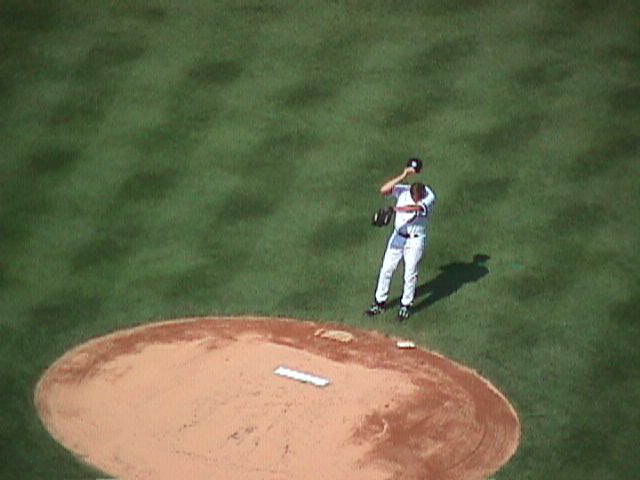 Jake Westbrook warms up before making his major league debut.
---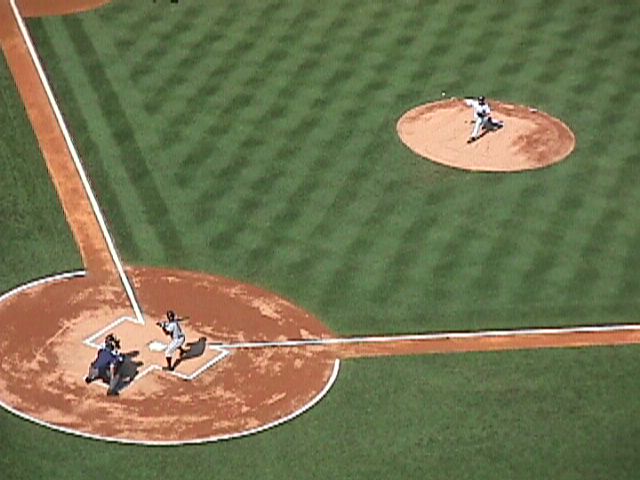 Westbrook's first major league pitch. Strike 1.
---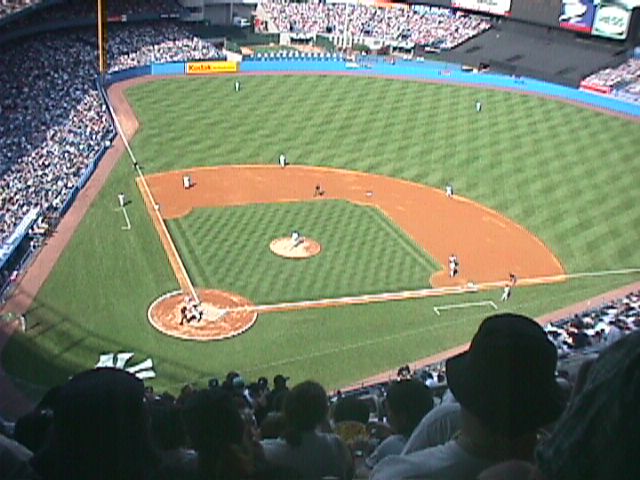 The Yankees in the field.
---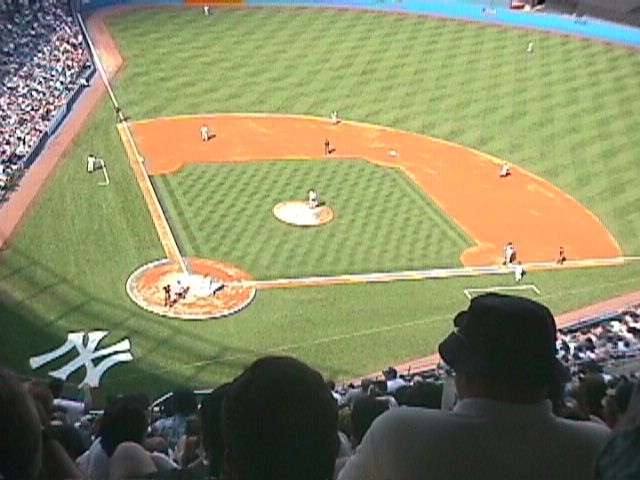 ---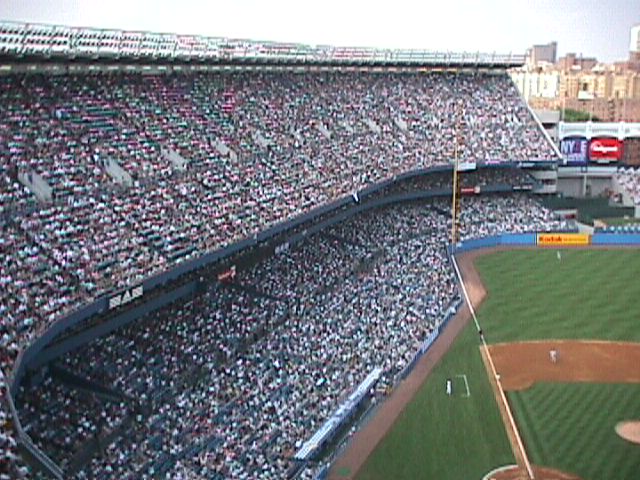 The crowd has pretty much filed in.
---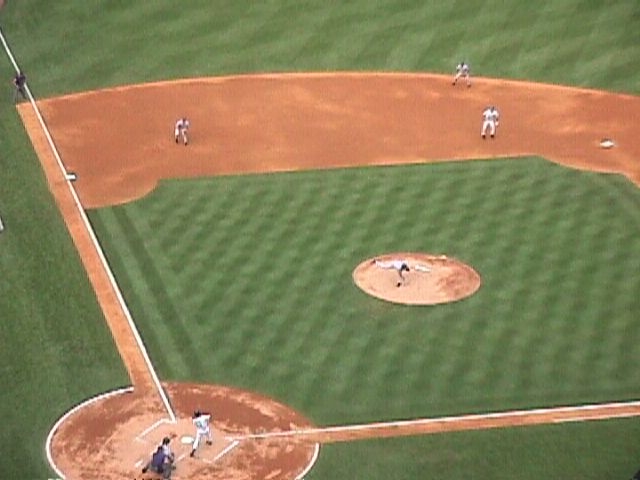 Bernie Williams bats with Derek Jeter on second.
---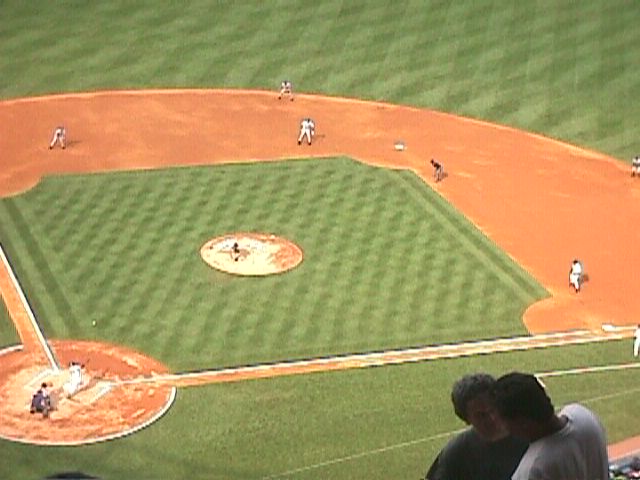 Tino Martinez bats in the first with Jeter on second, Williams on first.
---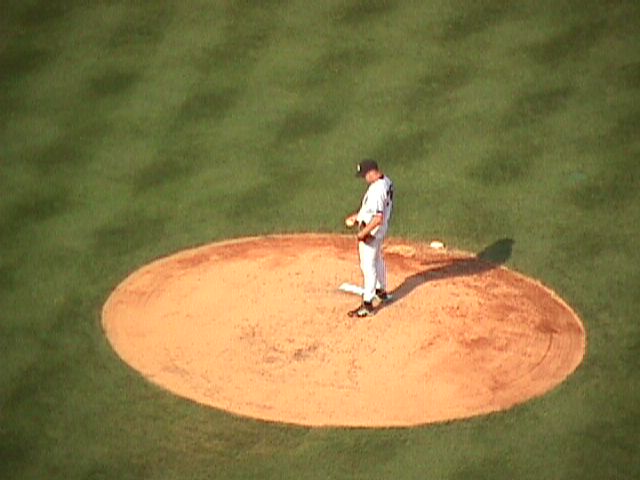 Jason Grimsley on in relief of Westbrook, who didn't make it out of the second.
---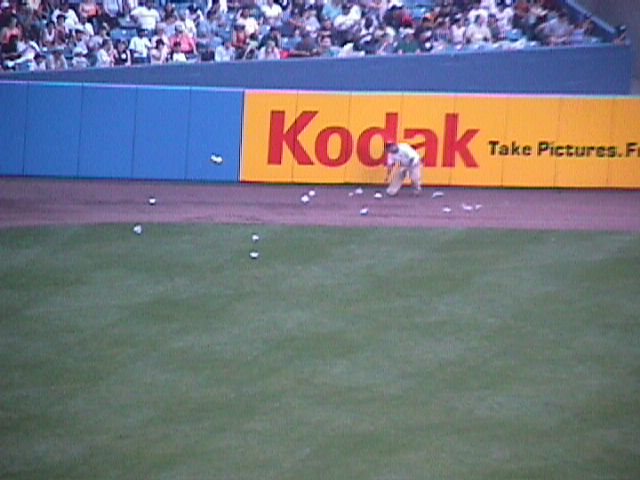 The wind came up as clouds came in, and papers and things were blowing all over the field.
---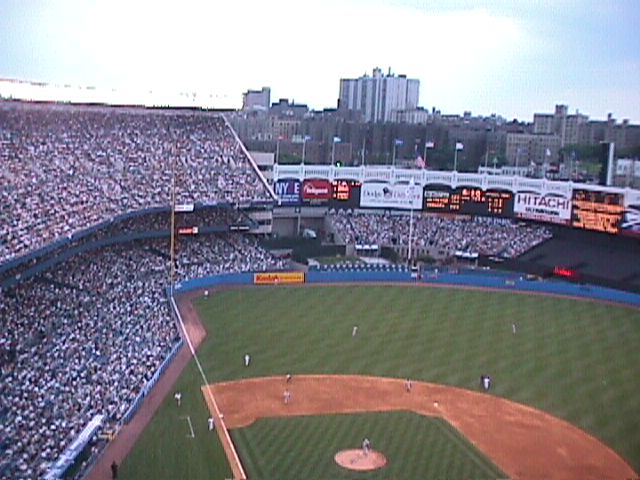 The lights are on, as a dark cloud rolls in.
---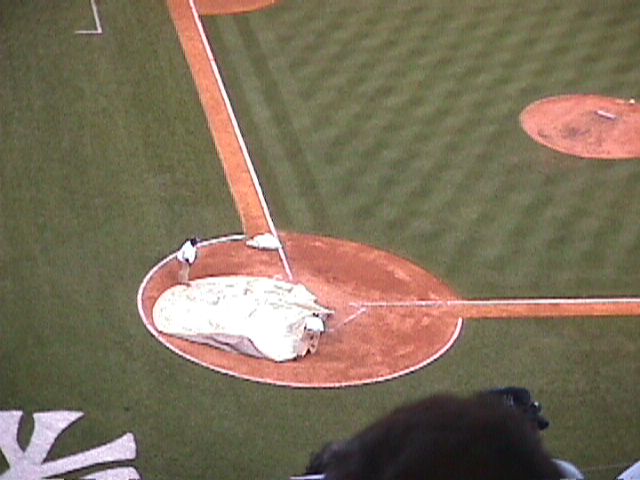 And the rain... the grounds crew covers the field.
---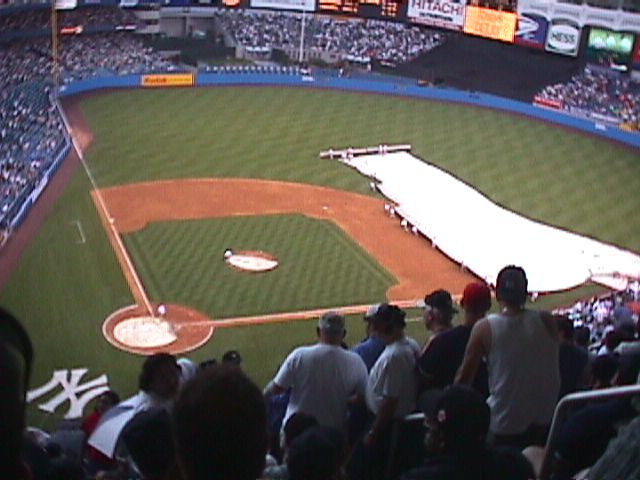 The tarp goes on.
---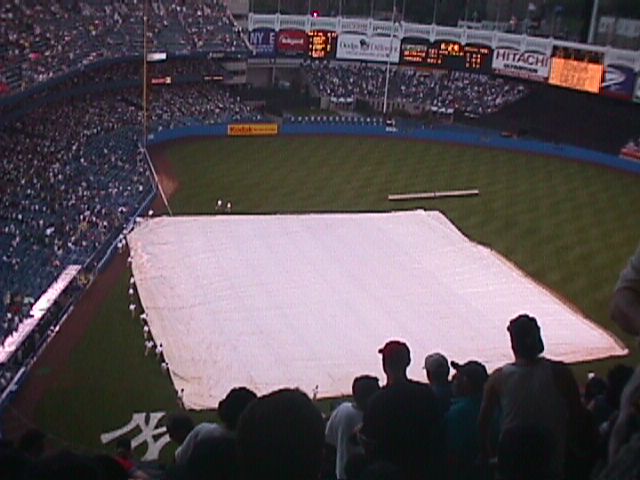 And then we wait. The delay was almost an hour.
---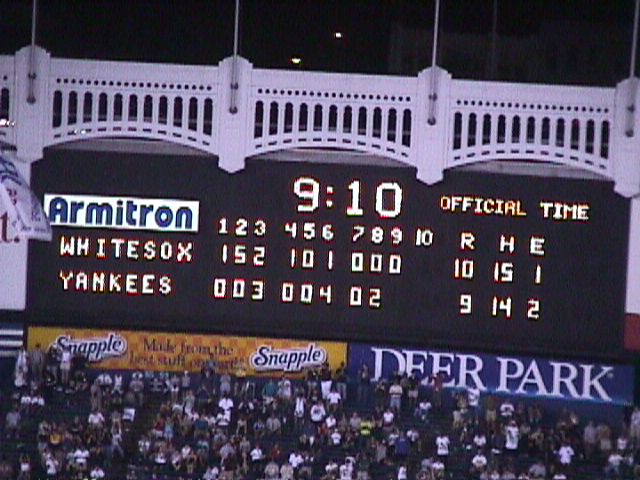 A lot of runs and a rain delay makes this game which started at 4:35 go to the bottom of the 9th at 9:10. The Yanks rallied from down 10-3 to make it interesting behind 7 Williams RBIs.
---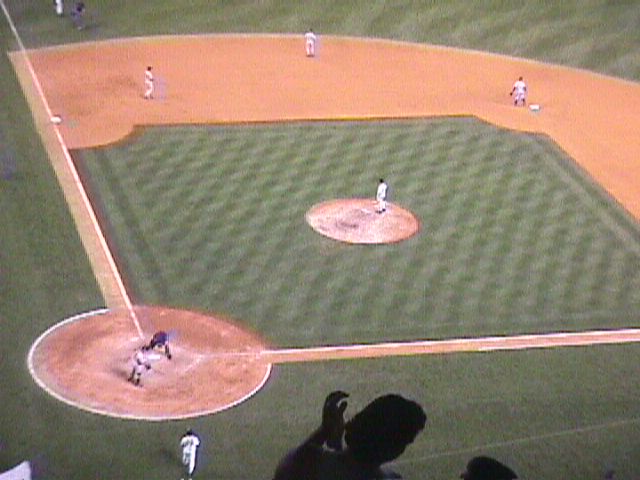 Ready to start the bottom of the 9th.
---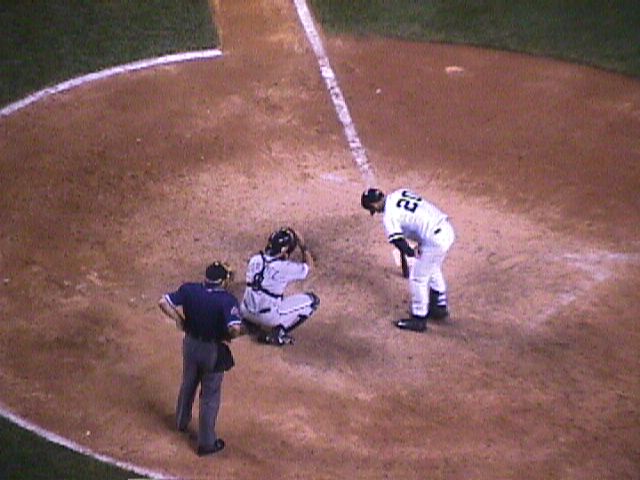 Jorge Posada digs in.
---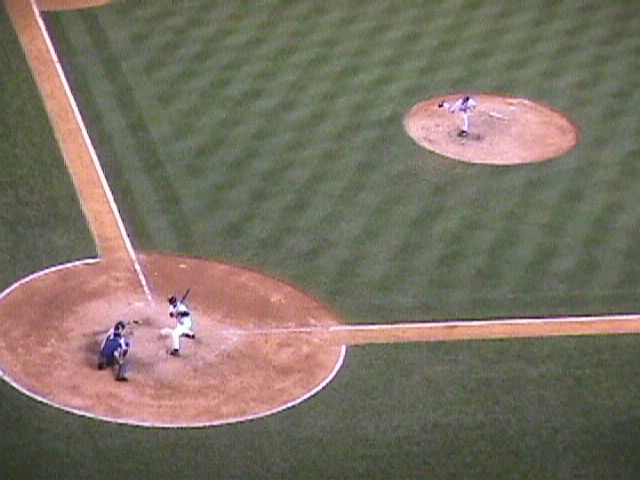 The pitch by Keith Foulke.
---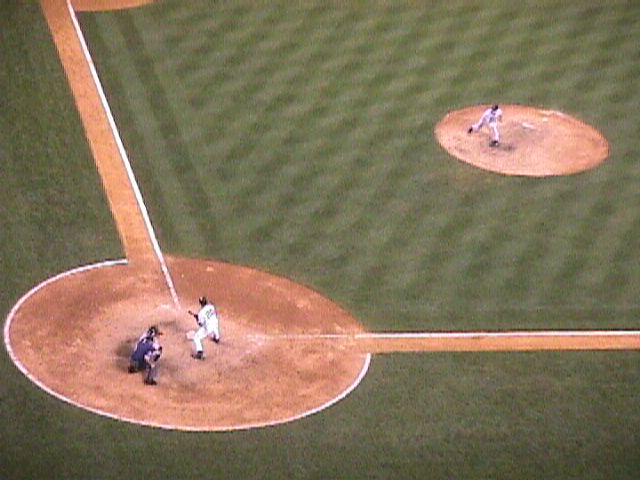 More Posada.
---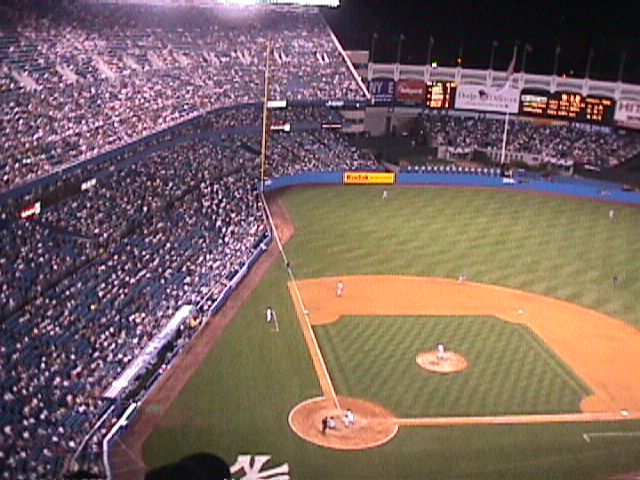 It's dark now, and a good chunk of the crowd has gone home.
---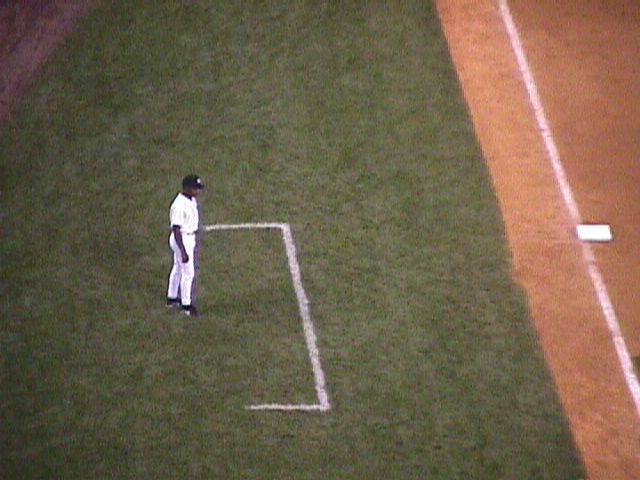 Willie Randolph in the third base coaching box.
---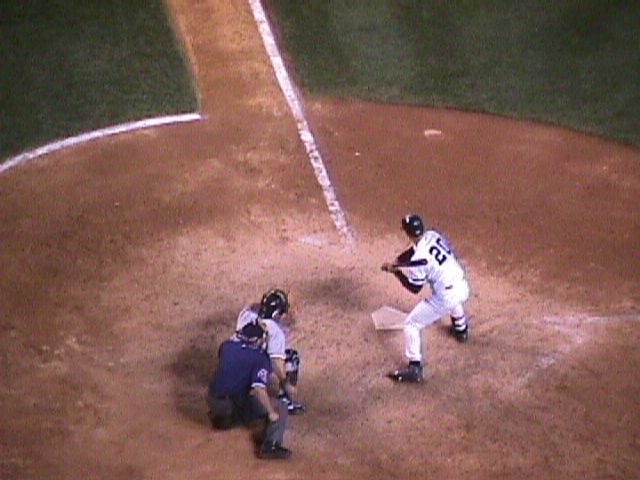 Posada is still batting.
---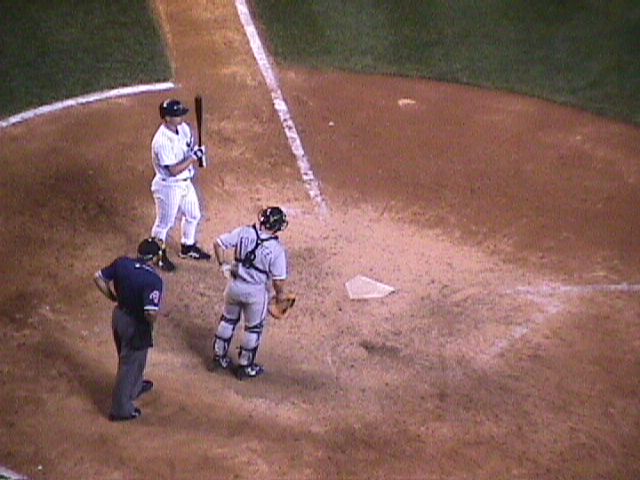 Shane Spencer is next.
---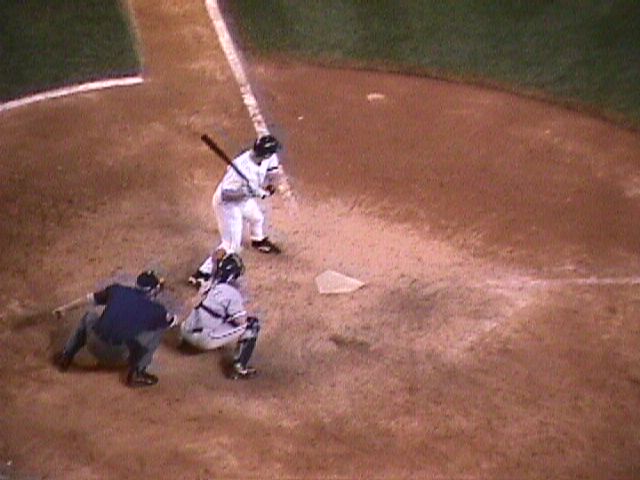 Spencer takes a pitch.
---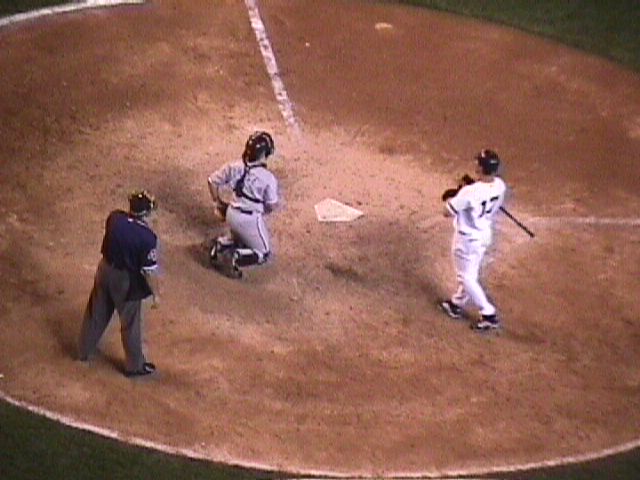 He was out, so here comes Ricky Ledee.
---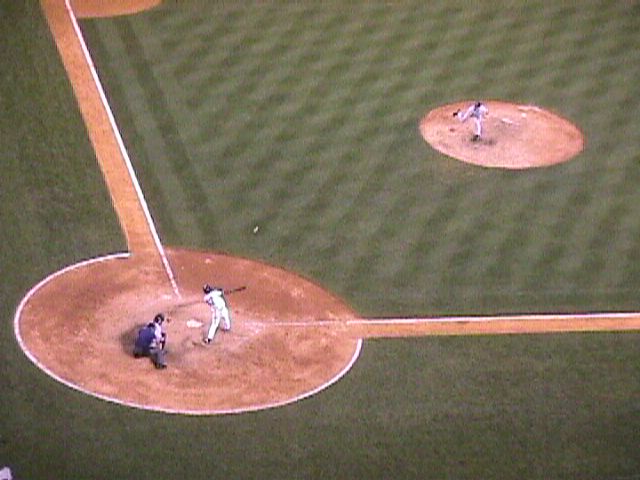 Ledee dunks one in for a double.
---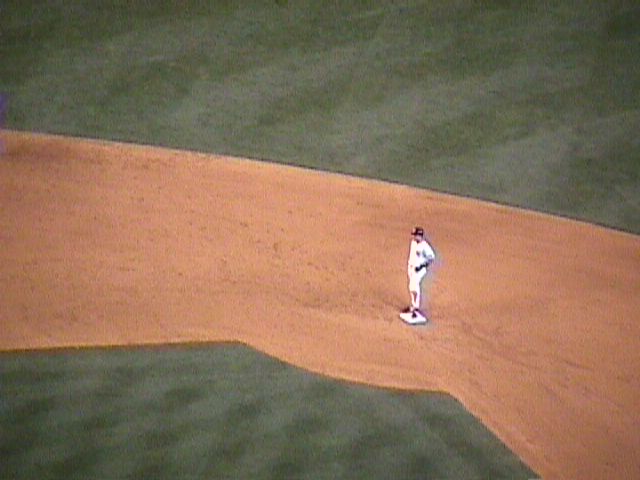 And there he is on second.
---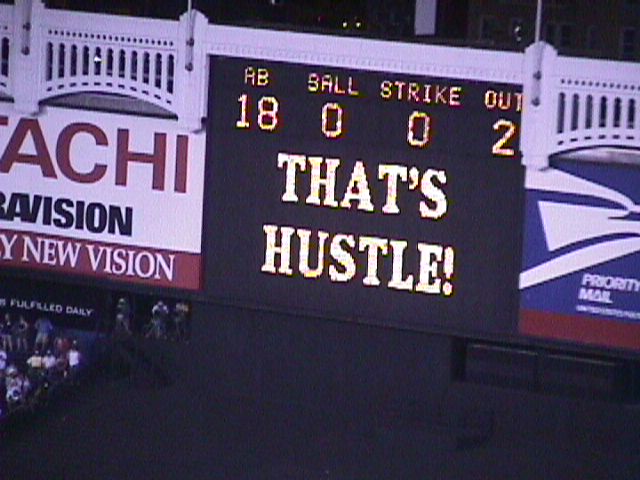 Some good baserunning got him there.
---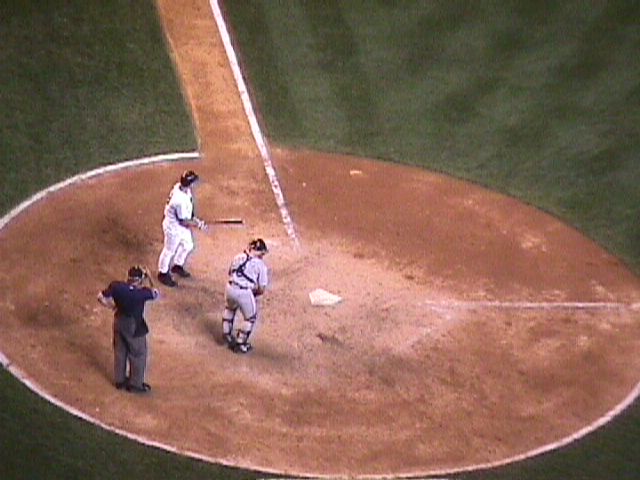 It's up to Scott Brosius.
---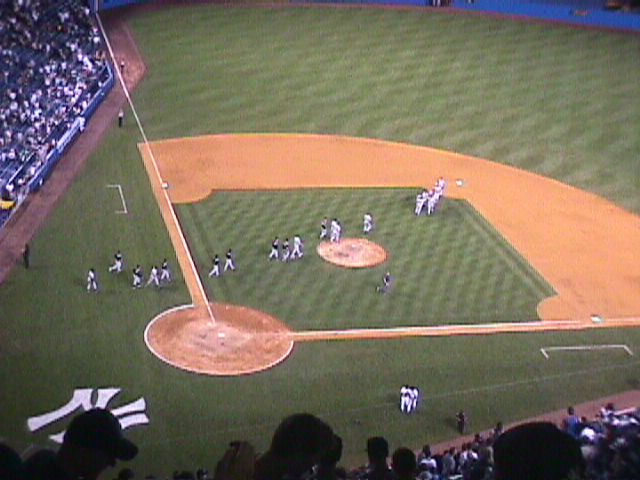 A groundout to third... And the White Sox hang on for the win.
---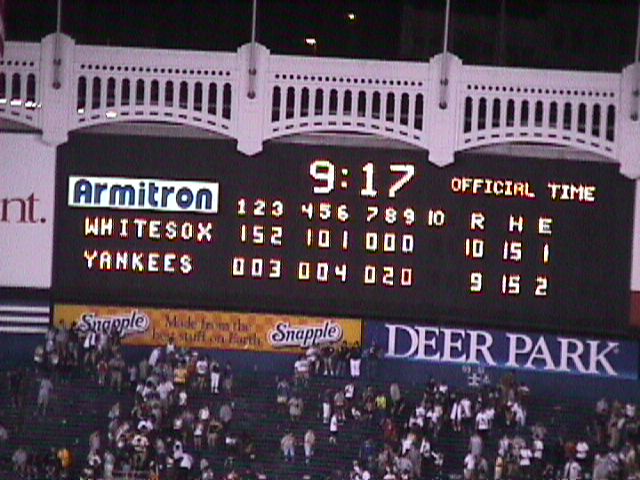 That's a lot of offense.
---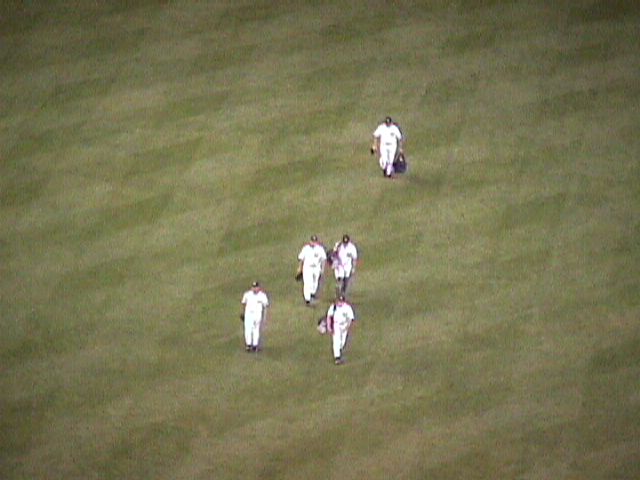 What's left of the Yankee bullpen comes in.
---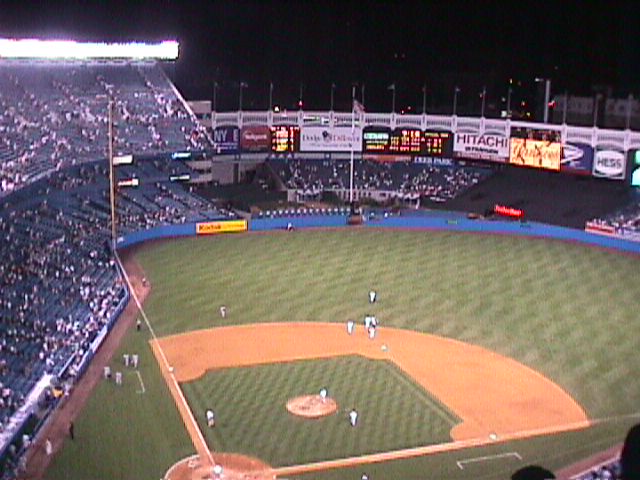 And we all go home.
---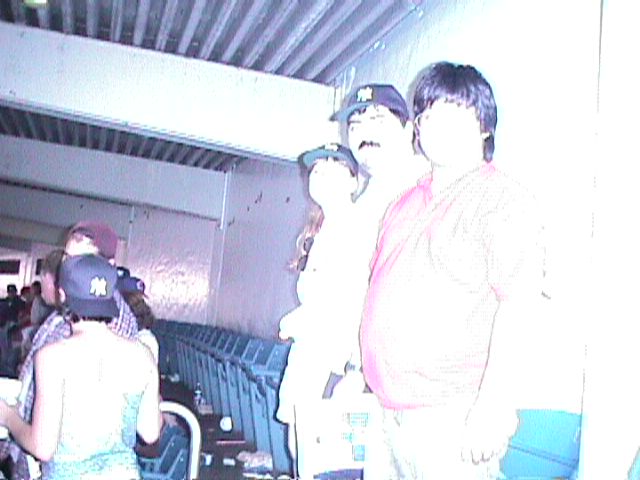 Anne, Chris, and Darren and way too much flash.
---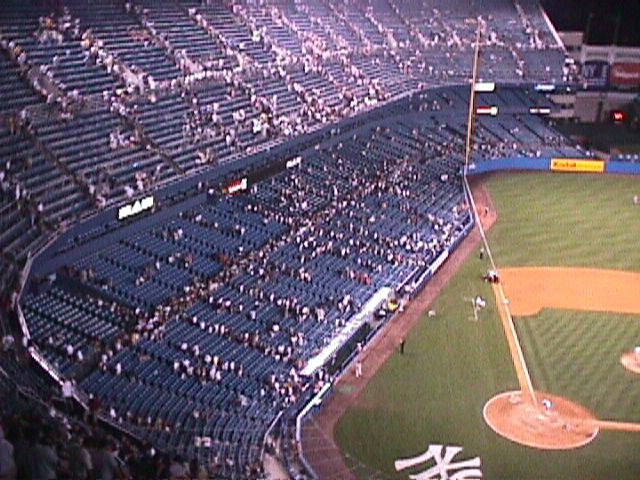 Emptying out.
---
E-mail domain: teresco.org, username: terescoj+pics Sun Jun 18 20:07:44 EDT 2000
---
Copyright notice: All images are copyright © James D. Teresco unless otherwise specified. Unauthorized use is prohibited.
---