Baseball Scorecards
When I attend baseball games (which I've done quite a bit), I like to keep score.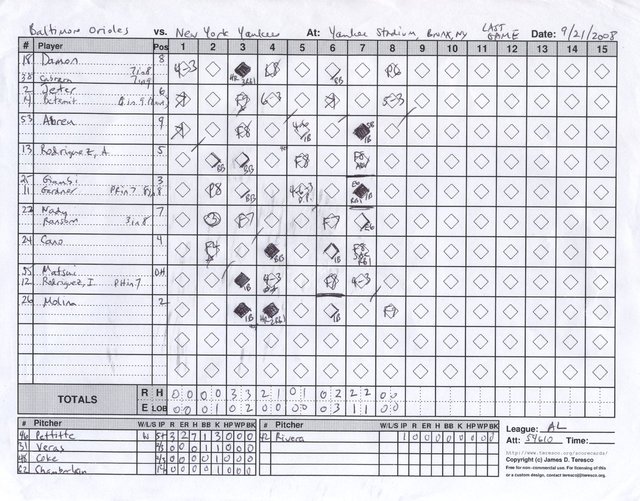 I like a fairly simple scorecard. I don't want a lot of clutter. I want a reasonable amount of space for substitutes. I prefer space for extra innings over space for game stats. And I keep score primarily for professional baseball, so I don't need space for 15 batters in a lineup.

A scorebook with all of that is difficult if not impossible to find, so I've developed a printable scorecard in a format that I like. It is available here in PDF format. I make it available under a Non-commercial Creative Commons license, so you're welcome to print and use this card for non-commercial purposes. If you do use it, please drop me a note at terescoj@teresco.org. I'm just interested in knowing if anyone finds it useful. (I know some are, since I ran into someone using this card, completely by chance, when filling out my lineup at a Lakewood Blue Claws game in July 2009!)

I'd be happy to accept small donations to support the effort, but don't feel obligated. If you'd like to use my card in a commercial scorebook or game program or wish to inquire about a custom design that meets your needs, please contact me at terescoj@teresco.org.
---
Maintained by Jim Teresco - E-mail domain: teresco.org, username: terescoj - Tue Aug 11 18:25:34 EDT 2009