---
The 2001 Alaska Road Trip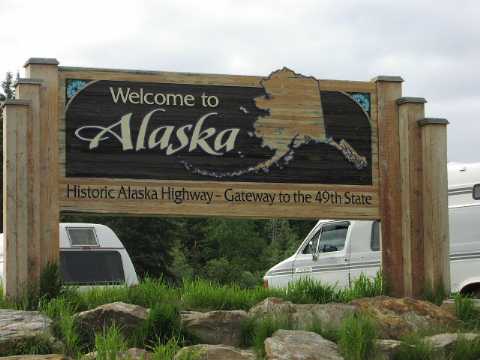 Back in late 2000, Jim Teresco was inspired to put together a road trip to Alaska. The idea was to drive from Williamstown, MA to Alaska, take a ferry to Washington and drive back across the country. While many people were invited, the eventual trip involved Jim and I leaving from Massachusetts and Andrew Shapira flying to Whitehorse to meet us and be dropped off on the way back. Ideas were exchanged and sample itineraries were made and modified to accommodate ferry reservations and other ideas. Eventually we ended up with a plan that involved leaving Massachusetts on June 6 and returning on June 30.

The eventual plan included baseball games in Chicago and Minnesota, meeting Andrew in Whitehorse on June 13, spending 3 nights in Fairbanks, 2 nights at Denali, and a night near Anchorage. We would return to Whitehorse June 22 for Andrew's flight and our ferry departure from Skagway the next morning. We would meet up with Andrew again in Seattle on June 26 and spend part of a day seeing the attractions in South Dakota before returning to Massachusetts on June 30.

We kept pretty close to the itinerary and saw most of the sights we planned to but of course had twice as many that we wish we had the time to see. I'm not sure we could have seen everything in an entire summer. We put over 9300 miles on Jim's new Audi and it returned safely but considerably dirtier and insect covered. In total we covered 19 states (MA, VT, NY, PA, OH, IN, MI, IL, WI, MN, ND, AK, WA, ID, MT, WY, SD, IA, NE), 4 Canadian Provinces, (MB, SK, AB, BC) and the Yukon Territory. We ended up with thousands of pictures, and lots of memories.

I've posted some of the best pictures from the trip. I took close to 2,000 pictures with my digital camera but I posted only about half of them. One of the great things about a digital camera is that the pictures are essentially free to take as many as you want, especially when someone has a laptop to download them to. If you only want to see the highlights of the trip I'd suggest viewing the Cubs and Twins games, the Whitehorse pictures, the mountain viewing, the UAF museum, the Riverboat Discovery, all of the Denali pictures, the glacier, the drive to Skagway, sunset on the ferry, Seattle, Mount Rushmore and the Badlands. Some of these pages do contain large but high quality pictures so viewing them over a modem is not recommended.

All pictures are property of Robert Foulis or James Teresco and are not to be reused or used for commercial purposes without permission.

---
Day 1 Williamstown, MA to South Bend, IN


We drove from Williamstown to South Bend making no major stops. We stopped for the night at the Super 8 in South Bend, IN

---



Day 2 South Bend, IN to Lemont, IL


Drove from South Bend to Chicago. We stopped by the lakefront for a few minutes before heading to the St. Louis Cardinals vs Chicago Cubs baseball game at Wrigley Field. Following the game we headed to Lemont to visit Jim's friends Ray and Kris.

---



Day 3 Lemont, IL to Becker, MN


Drove from Lemont to Minneapolis. We made a stop at Famous Dave's before heading to the Pittsburgh Pirates vs Minnesota Twins baseball game at the Metrodome. It was a shame the game was indoors on such a nice day. After the game we continued westward and spent the night at the Super 8 in Becker, MN.

---



Day 4 Becker MN to Portage la Prairie, MB


Drove from Becker to Portage. We drove through St. Cloud, MN and Fargo, ND. We made a brief stop at the Roger Maris Museum in Fargo, that was nothing more than an exhibit on the wall of a shopping mall. We spent some time walking around downtown Grand Forks, ND and across the bridge into East Grand Forks. This was the area devastated by the 1998 flood of the Red River. We then drove onward into Canada and drove through Winnipeg. We made an early stop at Portage, to watch game 7 of the Stanley Cup Finals.

---



Day 5 Portage la Prairie, MB to Edmonton, AB


We drove from Portage to Edmonton. It was supposed to be one of the longer days on the way out. It turned out to be much better than expected. We passed through Regina and Saskatoon with little trouble and the road was fast, flat and lightly traveled. It was one of the more boring parts of the trip. The terrain was very flat and desolate except for farming. Saskatchewan had some nice rolling hills and there was a National Park with some trees approaching Edmonton. We didn't have a chance to see downtown Edmonton but we stopped by the Northlands Coliseum to see the Wayne Gretzky statue. We spent the night at the Super 8 in West Edmonton.

---



Day 6 Edmonton, AB to Fort St John, BC


We started the morning early in Edmonton, expecting to get an oil change and be on the road by late morning. The oil change was much slower than expected but we had time to see the West Edmonton Mall with its stores, wave pool, pirate ship and dolphins. We were on the road later than expected but still managed to reach Dawson Creek and the beginning of the Alaska highway by dinner time and get a campsite at Fort St. John.

---



Day 7 Fort St John, BC to Watson Lake, YT


We were awakened around 6 AM by the bright sun, and I had already been awakened by a 4.0 earthquake that rattled the ground earlier in the morning. We were able to get an early start on the Alaska highway. The drive to Fort Nelson was not terribly spectacular but we saw a lot of wildlife and mountains in the afternoon. We made a stop at Takhini Hot Springs for a while in the afternoon. Unfortunately the weather was a little warm and the mosquitoes were out in full force so the Hot Springs were not as impressing as they would be on a cool day. It was relaxing and very scenic though. We concluded the day by reaching the Yukon and finding hotel at Watson Lake.

---



Day 8 Watson Lake, YT to Whitehorse, YT


We continued onward toward Whitehorse in the morning. We saw the signpost forest in Watson Lake and continued across the Yukon and briefly back into British Columbia. We arrived in Whitehorse in time to grab a delicious sandwich at a German deli in Whitehorse and meet Andrew at the airport. We headed back across town to the hotel and walked around. We took a tour of the SS Klondike and had a delicious dinner at a steakhouse in Whitehorse.

---



Day 9 Whitehorse, YT to Tok, AK


We finally reached Alaska today. The driving time was much longer than expected, mostly due to several large construction areas in the Yukon. We spent some time looking at the monuments on the border and headed on to Tok. Our first encounter with a native Alaskan was a scary one, and the person was nicknamed "Crazy Guy" for the rest of the trip. We stopped in Tok for the night at a motel.

---



Day 10 Tok, AK to Fairbanks, AK


We left Tok and headed towards Fairbanks in the morning. We made a stop for lunch at Delta Junction, which was the end of the Alaska Highway. After lunch we headed to Pump Station #5 on the pipeline for a tour. After the tour we continued on our way to Fairbanks. We went to the University of Alaska Fairbanks twice to view the Alaska Range Mountains, over 100 miles in the distance. We made a trip after dinner and were encouraged to return to see them in the setting post-midnight sun. The pictures here do not do justice to the impressing sight. We then returned to the Golden North Motel, which would be our home for the next 3 nights.

---



Day 11 Fairbanks, AK


Our first day in Fairbanks was a relaxing day after 10 days of travelling. We made a trip to a beach Chena Lake State Park. After a few hours there in the cold water, we went to Alaskaland. It was a theme park that preserved some of central Alaska's history and provided a marketplace for crafts and other stuff.

---



Day 12 Fairbanks, AK


Our second day in Fairbanks included a trip to the University of Alaska Fairbanks museum. The museum contained many artifacts about Alaska, including the wildlife and culture. Following the museum we went on the Riverboat Discovery. The boat showed many of the sights along the riverfront, as well as demonstrations of the native culture and sled dogs.

---



Day 13 Fairbanks, AK to Denali, AK


We spent the morning seeing downtown Fairbanks before heading towards Denali. Upon arriving at Denali we checked into our room at the Denali Mountain Morning Lodge. We made a trip to the National Park to get tickets for the bus for the next day. After that, we spent some time unsuccessfully trying to view Mount McKinley and visiting the deserted town of Cantwell.

---



Day 14 Denali National Park


We took a slightly shorter trip into Denali National Park than we had hoped because the longer trips were sold out. The ride out to the Eilson Visitors Center gave us some views of wildlife. We went for a short hike around the visitors center but unfortunately it was getting late in the day and the hills we were hiking on were too steep and had too much loose dirt. We returned to the Eilson Visitors Center and had to wait 2 hours to catch a bus back. The wait turned out to be worthwhile as we saw several bears, a lynx and several foxes. We did not get a chance to see Mount McKinley but the wildlife was so impressive that it was still a great time.

Denali The bus ride to the Eilson Visitor Center

Denali Eilson Visitor Center area and our hike

Denali The bus ride from the Eilson Visitor Center


---



Day 15 Denali, AK to Palmer, AK


After the exciting day at Denali it was time to head onward. We stopped several times to get views of Mount McKinley. We drove to Anchorage and spent some time seeing downtown before looking at Earthquake Park. We headed back to Palmer to shorten the next day's trip to Tok.

---



Day 16 Palmer, AK to Tok, AK


We left our hotel in Palmer and headed along the road to Tok. We had hoped to have time to visit Valdez but unfortunately it was not meant to be. We were able to make a stop at the Matanuska Glacier instead. We spent about 2 hours walking around on the ice. After the glacier we headed back on the road. We made brief stops at the visitors center for Wrangall-St Elias National Park and some turnouts to view the volcanoes. We then headed onto Tok for the night.

---



Day 17 Tok, AK to Whitehorse, YT


We retraced our drive from Day 9. We didn't see much of anything new but it was necessary to leave Andrew for his flight in Whitehorse and our ferry from Skagway.

---



Day 18 Whitehorse, YT to Skagway, AK, ferry


We left Andrew in Whitehorse so he could catch his flight home. We headed on the road towards Skagway. The road to Skagway was scenic with a green lake, a desert and a mountain pass. We had a little time to walk around before catching the ferry. The ferry made stops in Haines and Juneau. We got off in Juneau but unfortunately it was far from the town and there was little near the terminal.

---



Day 19 Ferry, Ketchikan


This was the first of two full days on the ferry. We made stops in Wrangall and Ketchikan. The Wrangall stop was early morning in a quiet town so we were unable to see much. In Ketchikan we were dropped off closer to town. It was rainy, as it should be since its one of the rainiest places in the country but we were still able to find a store to get some extra food for the ferry.

---



Day 20 Ferry


This was the long day on the ferry. There were no stops to get off and look around. We did watch the crew during a disaster drill in the afternoon and the weather cleared up for a beautiful sunset.

---



Day 21 Ferry, Bellingham, WA to Seattle, WA


We arrived in Bellingham around 9 Pacific time. Once we were off the boat we headed toward Seattle. We spent the afternoon sightseeing in Seattle, visiting the Space Needle, market and waterfront. We met up with Nathan and Andrew. We headed back into Seattle

---



Day 22 Seattle, WA to Livingston, MT


We left Nathan's place early in the morning and headed on our way east. We encountered some traffic in the Seattle area and then proceeded across the mountainous regions of western Washington, Idaho and eastern Montana. There was little time for sightseeing and we arrived in Livingston, finding a room at the Comfort Inn (the Super 8 was full).

---



Day 23 Livingston, MT to SD


We began the day in Montana and planned a shorter driving day to spend some time sightseeing in South Dakota. We arrived at Mount Rushmore just after a thunderstorm, but it was beginning to clear up. After Mount Rushmore we moved on to Wall Drug for dinner and the Badlands before sunset. The Badlands were especially impressive with the twilight and the setting sun creating some beautiful contrasts in color.

---



Day 24 SD to Ohio


We began the day at 7 AM Central time in the middle of South Dakota, we ended the day around 3 AM at a rest area in Ohio. We took a different route heading down I-29 to I-80 across Iowa and Illinois rather than continuing on I-90 across Wisconsin and Minnesota. We also made a trip back across the Missouri River to Nebraska for lunch.

---



Day 25 Ohio to Williamstown, MA


After a short stop for a few hours of sleep at a rest area in Ohio we concluded our trip. We arrived back in Williamstown around 4 PM and very tired. We encountered the hottest weather of the trip as we entered the Capital District of NY. Luckily there were thunderstorms to break up some of the heat.
---



rfoulis@yahoo.com Last Modified: 8/17/01 10:46 PM
---
Copyright notice: All images are copyright © Robert F. Foulis unless otherwise specified. Unauthorized use is prohibited.
---
---