Hawaii - August 20-September 2, 2006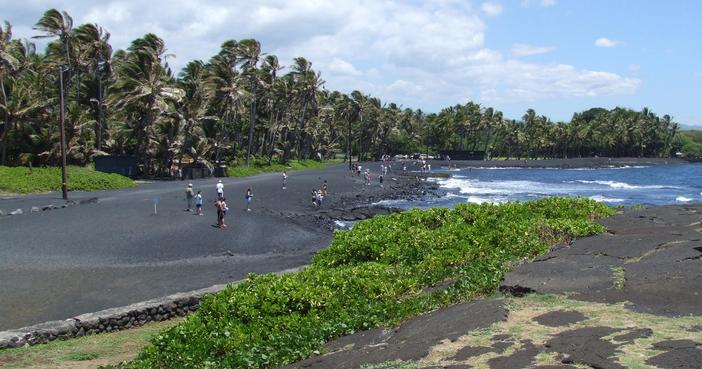 Punalu'u Black Sand Beach Park on Hawaii's Big Island
These pictures were taken with my Fujifilm Finepix S9000 digital camera on our trip to Hawaii, August 20-September 2, 2006. Images are shown at a resolution of 640x480, but many are available either in full 3488x2616 sizes, as crops from the 3488x2616 originals, or in half-sized 1744x1308 images by clicking on the links after the captions.
For those without the time, energy, or interest to look through all 1500+ pictures, I've gathered the ones I have chosen to add to my screen saver rotation onto a best pictures page.
More movies will be added soon.
Sunday, August 20, 2006
We drove down to Newark [2 Pictures] the night before to avoid making a really long day any longer than necessary. Then it was off to the airport, through checkin and security. After lunch, it was time to board the plane, our home for the next 11 hours or so (by the time you add in time on the ground on both ends). After a pretty smooth flight, we arrived in Honolulu in the early evening, got our car, and drove over to our hotel in Waikiki [2 Pictures]. With my set of 50 states now complete, we looked around the area just a bit, then grabbed dinner at a local sit-down cheeseburger chain down the street from our hotel.
Monday, August 21, 2006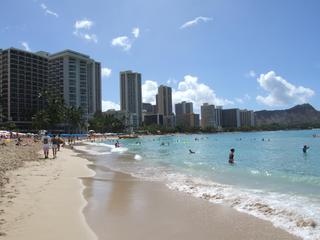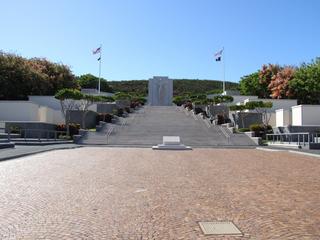 For our first full day on O'ahu, we stayed right in the Honolulu area. Pictures from the day are from a walk along Waikiki [39 Pictures], a ride up Tantalus and Round Top [47 Pictures], a stop at the Punchbowl Crater, the site of the National Memorial Cemetery of the Pacific [12 Pictures], and a ride out to Sand Island [16 Pictures]. We got lunch at a local diner called Wailana Coffee Shop and dinner at a Tony Roma's, both in Waikiki.
Tuesday, August 22, 2006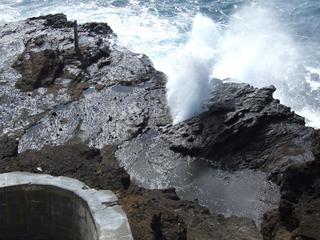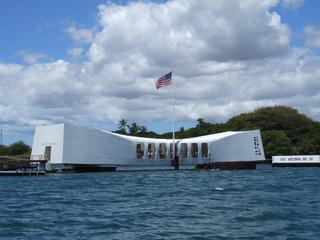 This day's plan was to hit the snorkeling spot at Hanauma Bay in the morning. We got going fairly early and headed out southeastern O'ahu [8 Pictures] only to find that Hanauma Bay is closed on Tuesdays. Not a problem - we continued along the southeastern loop, with picture stops to see crashing waves near Hanauma Bay [10 Pictures] and at the Halona Blowhole [8 Pictures]. When we got to the Kailua area, we decided to head back to Pearl Harbor on Interstate H3 [11 Pictures] for a visit to the U.S.S. Arizona Memorial [46 Pictures]. After finding lunch at a local chain called Zippy's, we took a ride up the west coast of O'ahu to the end of the road [19 Pictures]. This was a nice ride, but most of the county parks seemed to have people in tents and old broken down cars living in them, so it didn't seem safe to stop at most of them. Back in Waikiki, we took a ride down to get a dinner at Wolfgang Puck's Cafe. There is also a page of pictures from the roads that didn't make the cut to get on the other pages [26 Pictures].
Wednesday, August 23, 2006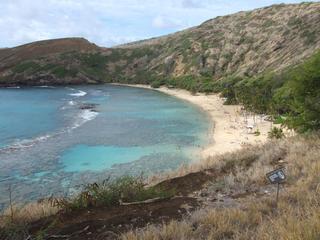 We stayed fairly close to Honolulu for this day. In the morning, we returned bright and early to Hanauma Bay where Cathy did her snorkeling [29 Pictures][Cathy's 85 Underwater Pictures]. It wasn't crowded and there was no entry fee when we arrived at 6:30 AM, but it got plenty crowded and there was a line to get in stretching way out into the parking lot when we left. From there, we drove into the Diamond Head Crater and hiked up to the summit for great views of southeastern O'ahu [45 Pictures]. After washing up and getting some lunch at a local Thai place, Cathy went down to Waikiki Beach to take a surfing lesson. This was not an easy task on a day when the surf was really up, and in many places was washing up past the beach onto hotel walkways and crashing into retaining walls. Lots of people were determined to be in the water anyway, and it was fun watching those in the water get tossed around and into each other (including a woman on a pink tube who was getting clobbered out there). Dinner later on was at the Ruth's Chris Steakhouse in Restaurant Row.
Thursday, August 24, 2006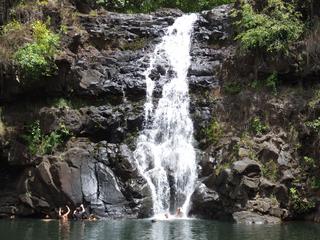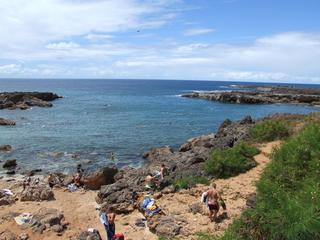 Our last day on O'ahu took us on a tour of the North Shore. Our first stop was at the Dole Plantation [20 Pictures], where we saw some pineapples growing and tried some. We continued north to the Hale'iwa Area [12 Pictures] and on to Waimea Falls in the Waimea Valley Audubon Center [27 Pictures]. We stopped for a few minutes at a beach [10 Pictures], grabbed some food for lunch at a grocery store, then stopped for Cathy to do some snorkeling at Shark's Cove [10 Pictures][Cathy's 19 Pictures]. Further along, we stopped and paid our parking fee for the Polynesian Cultural Center [5 Pictures], but when we saw the prices, decided not to go in. Apparently, they expect you to spend a full day and we didn't have that kind of time. We made more stops for pictures as we continued along Route 99 in Eastern O'ahu [18 Pictures], then arrived in the Kailua area. The roads are a bit confusing in this area and not all intersections are complete. Before we realized it, we were on Route 63 with no way to turn around until Honolulu. Eventually, we turned around and found our way back to Kailua [13 Pictures], where we found a small shop in a strip mall that made a pretty good Philly cheesesteak. There are also some pictures from the roads that didn't make the cut [18 Pictures].
Friday, August 25, 2006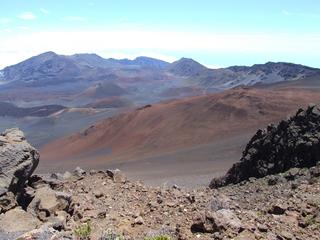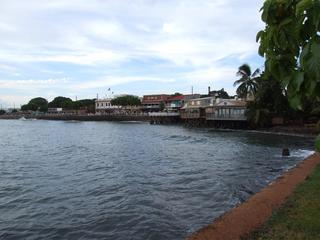 We got up very early to catch our flight to Maui and we were there and had our car by mid-morning. The weather looked good, so we started right away with a ride up Maui's newer volcano, Haleakala. We quickly climbed our way from sea level at the airport to 10,000 feet at the summit. Pictures are grouped into several pages:

[22 Pictures], mainly of the coast and the surfers. In Lahaina, we found parking and walked around [15 Pictures]. We got some dinner at the Cool Cat Cafe (where they had the Yankees and Angels on the television) before heading back to Wailuku. Again, there is a page of pictures from the roads that didn't make the cut [6 Pictures].
Saturday, August 26, 2006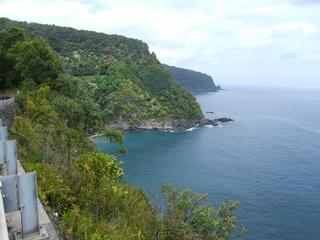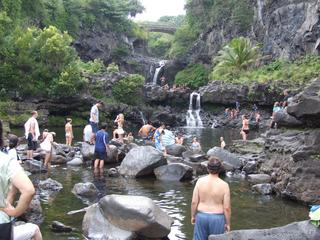 This was our only full day in Maui, so we did the big drive. Before that, there are some pictures of the Old Wailuku Inn [3 Pictures]. The big ride is the Hana Highway, the narrow, winding road out to the east side of Maui. This drive is not really as treacherous as some would have you believe, but there are lots of narrow sections along high cliffs and constant turns, so you need to pay attention. Pictures from the ride out to Hana are broken into several pages:

Maui Revealed guidebook. Once in Hana, we grabbed lunch at Tutu's and looked around a bit [12 Pictures]. After Hana, we continued down the eastern shore of Maui [10 Pictures] to the Kipahulu area of Haleakala National Park [19 Pictures]. This very scenic area is where most people turn back to get back to Kahului. But we decided to continue on and take the Pi'ilani Highway [33 Pictures]. Don't see a southern route on your Rand McNally? It was there, even if the rental car company didn't really want us there. The drive was worth it, with very different scenery than what we saw on the ride out along the north coast.
Sunday, August 27, 2006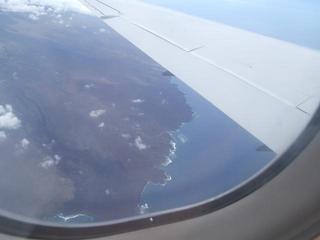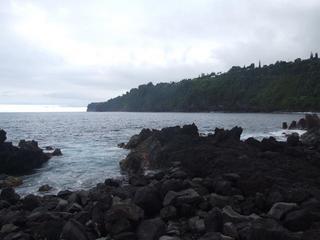 This day was split between Maui and Hawaii. In the morning, we checked out the Wailuku and Kahului areas a bit more [7 Pictures] and grabbed a few more pictures before checking out from the Old Wailuku Inn [10 Pictures]. We wanted to be sure to get to the airport in time, so we settled for Wendy's for lunch. Oh well. The flight was good, and I managed to take a few pictures in the air [7 Pictures].
We arrived on Hawaii (Big Island) at the Kona airport by mid-afternoon and got our rental car (our third straight white Chevy Cobalt, believe it or not). Our goal then was to get out to the Volcano area before too late. We took the northern route and managed to stop and see at least a few things [20 Pictures]. We got in and checked into the Volcano Country Cottages by 7, and got lunch at the Kiwae Kitchen in Volcano Village. Again, there is a page with pictures from the road as well [7 Pictures].
Monday, August 28, 2006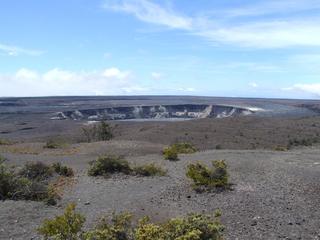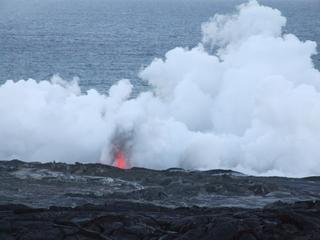 This was a great day checking out Hawaii Volcanoes National Park. I almost definitely set a new personal record for pictures in a day, plus some movies (yet to come). We started with the Crater Rim Road, and pictures are broken into several pages:

[Picture] in Volcano Village. After a little rest back in the cottage, we headed back into the park for the ride down Chain of Craters Road: At the end of the road, we set out for a late afternoon and evening hike to see the red lava from the current eruption. These pictures are also broken into several pages: [1.9 MB Quicktime, 2:36]. More to come...

Back at the cottage, we had Thai takeout food waiting for us.
Tuesday, August 29, 2006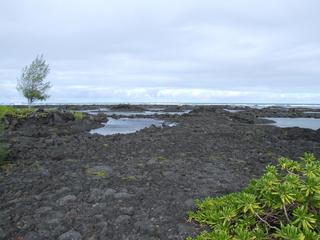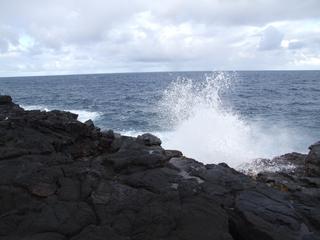 We started out slowly, with some laundry and resting in the morning. We decided to take a ride down to Hilo and out to the eastern part of the Big Island. We started by going into Hilo [9 Pictures] including lunch at the Cafe 100. After that, it was out Route 132 toward Pahoa [3 Pictures]. We made stops at Lava Tree State Park [13 Pictures], the Easternmost point in Hawaii [9 Pictures], the Kapoho Tide Pools [11 Pictures], and the Ahalanui Warm Spring [4 Pictures]. We then continued down Route 137, where we saw some very big waves crashing [8 Pictures]. We continued down to the former site of Kalapana Black Sand Beach [8 Pictures], which was buried by the 1990 lava flow that also closed the road that used to connect this area to the Chain of Craters road in the national park. We went as far as we could on that road, including several sections built in a very temporary fashion on top of the recent lava flows, where we could see the current flow from the north side [10 Pictures]. Then it was back into Hilo for dinner at Reuben's Mexican Restaurant.
Wednesday, August 30, 2006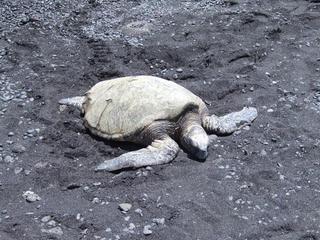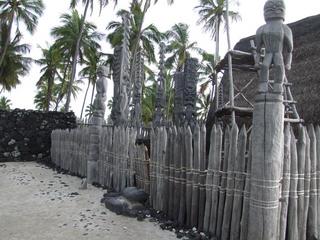 The plan for this day was to get across from from Volcano to the Kailua-Kona, where we would spend our last two nights. Before heading out, there are some pictures from the Volcano Country Cottages [11 Pictures] (which we liked a lot). We had a bit more we wanted to do at Hawaii Volcanoes National Park: the Thurston Lava Tube [16 Pictures], a stop (mainly for souvenirs) at the Volcano House [4 Pictures], and a ride part way up Mauna Loa Road [6 Pictures].
We were on our way south by mid morning. There are a few pictures from the ride along the southeast coast [3 Pictures] before our arrival at the very impressive Punalu'u Black Sand Beach Park [31 Pictures][Cathy's 18 Pictures], which was great for its black sand and scenery, plus its abundance of sea turtles, both in the water and on the beach. We made a lunch stop in Na'alehu [4 Pictures], where everything is the southernmost something in the U.S. After lunch, we continued on and made a side trip to South Point - the southernmost spot in the U.S. [28 Pictures]. On our way back north on the western side of the island, we stopped at the Pu'uhonua o Honaunau National Historical Park (City of Refuge) [31 Pictures]. Then it was on up to check in to the Outrigger Keauhou Beach Resort, where we got to see the sun set [7 Pictures] before dinner at the hotel restaurant.
Thursday, August 31, 2006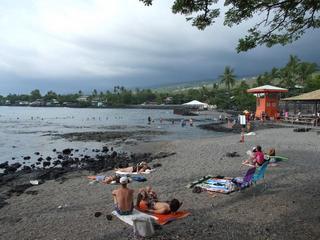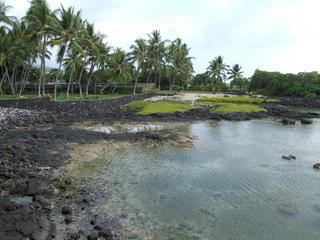 Our last full day in Hawaii was a slow one. Cathy went snorkeling at the Kahalu'u Beach next door to the hotel [Cathy's 35 Pictures]. We stayed around the hotel [17 Pictures] for the day, before heading up to Kailua-Kona for dinner at the Oceans Sports Bar.
Friday, September 1, 2006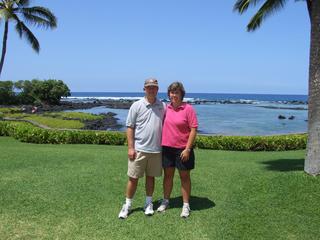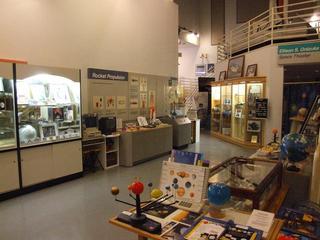 Time to leave Hawaii. We had the morning at the hotel [Picture], then we headed into Kailua-Kona [7 Pictures] to pick up a few souvenirs and for a good pizza lunch at the Kona Brewing Company. After wandering around the town for a bit, we headed up to the airport to get ready for the long day of travel. At the airport, we had a little time to visit the Ellison Onizuka Space Center [7 Pictures], a small museum in honor of the member of the shuttle Challenger crew. The flight from Kona to Honolulu was on time and smooth, and gave some views of the islands [8 Pictures]. After 4+ hours at the Honolulu airport, we boarded our long flight to Newark and were in the air through the night. There are also a few pictures from the roads that didn't make the cut [3 Pictures].
Saturday, September 2, 2006
It became Saturday somewhere over the Pacific. We crossed into California before sunrise, right over the Bay Area. First light came over Nevada and sunrise over Utah [Picture]. Things were smooth until we got to Pennsylvania, when we started to encounter the remnants of Tropical Storm Ernesto. After circling a few times around Allentown, we finally approached Newark and made a bumpy landing in a wind-driven rain.
Coming Soon...a few movies and more of Cathy's pictures
Random Thoughts and Statistics
While this was not a road trip in the traditional sense, we did put a lot of miles on our three rental cars (all white Chevy Cobalts) -- over 1000 miles combined. This is on top of over 10,000 miles in flights and the drive to Newark and back.

The trip included new westernmost and southernmost points for me. Our furthest west was at the Ka'ena Point State Park on O'ahu (over 158 degrees west), and the furthest south was at the South Point on Hawaii (just below 19 degrees south).

It was good to have a chance to see three of the islands. I heard some advice that a first-time visitor should pick an island and do it well rather than trying to cram in too many. I wouldn't have wanted any more time on O'ahu. I think I've seen just about everything I want, and if I want a medium to large American city, I have a lot of closer and cheaper options to get that. Maui was very different and I'm glad we got in our two days there. I think another day or two would have been nice. The Big Island was my definite favorite. Active volcanoes definitely help in that ranking, but I also thought the best beach (Pu'uhonua) and very authentic towns were there. You can get a sort of toned-down Waikiki in Kailua-Kona, if you want that kind of thing. Assuming there's a next time, I would definitely return to the Big Island, and try to see some of the others that we didn't visit this time. I'm sure they're just as unique as the three we did see.

If you go, get the blue guide books from Wizard. They never steered us wrong on Maui or Hawaii. We wish we had their O'ahu guide while driving around there.

The food in Hawaii was better than I expected. I had heard from more than one person that it was nothing very exciting, so expectations were low. We did a pretty good job trying the local things when we could and enjoyed most of them.

Hilo Hattie seemed to be a nice Hawaiian chain gift shop. So we went to the one in Kailua-Kona. Just about everything there was made in China, including the things that were supposed to be the most Hawaiian. I was considering a small wooden tiki carving but passed it up and was happy to find similiar items, made in Hawaii, for sale for around the same price at the Honolulu airport.

As with most of these trips, the pictures don't do justice to what you see. You have to go and see for yourself.


E-mail domain: teresco.org, username: terescoj - Mon Apr 30 19:42:13 EDT 2007
---
Copyright notice: All images are copyright © James D. Teresco unless otherwise specified. Unauthorized use is prohibited.
---